November, 2019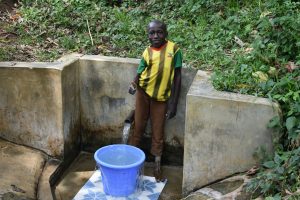 Since the implementation of Asena Spring in Mungakha Village, a lot has happened in community members' lives. Among the notable changes is the reduction in hospital visits since today it is very rare for people to get sick from waterborne diseases thanks to the clean and safe water they have been accessing from the spring.
On our team's most recent visit to Asena Spring to check up on it and interview community members about the impact the spring has had on their lives since its completion, we heard reports that since the protection, community members have not gone to the hospital because of typhoid or stomachaches. This is a great achievement that has been achieved through the clean water at Asena Spring.
(To hear Litrelius and Gladys, quoted below, in their own words, check out the video on the Photos tab of this project page!)
Community members have also improved on their compounds' cleanliness and the upkeep of their surroundings. The spring, in particular, was found to be tidy and clean with the drainage channel well-cleared out, a strong sign of their commitment to the continual maintenance and care of the spring.
"Before, I used to consume a lot of time coming here to fetch water," said 15-year-old Litrelius Bordar.
"I would use a jug to pour water into a jerrycan and by that time people were queuing, so we could take much time waiting for one at a time. As a person with a disability, I used to get very tired since after school, every evening, and weekends it is a must to fetch water. But since the spring was implemented, I can  fill my jerrycan within a few seconds."
"Whenever it rained I used to worry so much because our house is made of grass thatch and we can't collect rainwater from our roof, so Asena Spring was the only source of water that was nearby. Once it rained, all sources of contamination were carried to the spring. We were being forced to wait until it got clean or walk for another 500 meters away in search of clean drinking water, but now that the spring is protected and covered all my worries are turned away. I do not have anything to worry about."
"At our home, we also had a very bad latrine which always made us afraid of visiting the latrine whenever need be, but The Water Project came and brought a sanitation platform and we were among the beneficiaries. It feels so good being able to access the latrine without any fears."
Gladys Ndunde also spent time with Field Officer Betty at the spring and shared her thoughts on the project.
"One of the major changes in this community that has happened since last year is that before, we used to drink and cook with very dirty water. There was no season when you could say, 'at least during a certain season water is clean' – water from this spring was dirty always and became worse during rainy seasons."
"There was a lot of contamination at the water point. Different animals could directly drink from the water since it was open to all sorts of contamination. Life in this community was not good at all. People used to experience waterborne diseases that caused others to lose their lives, especially young children."
"But today, life is very smooth. There is no one who has ever fallen sick of waterborne diseases…this is because we are able to access clean and safe water. We used to take untreated water because we never valued the importance of treating water, but since the water project was brought in this community we were able to learn and switched off our ignorance of not boiling water or treating the water before drinking it."
"We also used to ignore the wellbeing of our health. For example, we used to visit the latrines and one could not bother cleaning their hands or sometimes one could clean utensils and hang them on the grass to dry or in a basin, but after we were trained, much has improved. At least every household has a dishrack and a majority clean their hands once they visit the latrines or before eating anything."
See The Water Project in Litrelius Bordar's Community »