July, 2019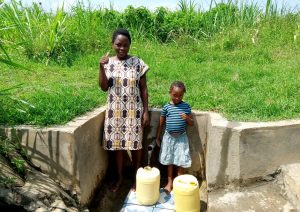 A little over a year since Dawi Spring was protected, on a recent field visit we saw and heard how its protection has brought cohesion among Musango community members.
Before Dawi Spring was protected, community members often had disagreements over who could access water and if that would change once the spring was protected. After implementing the spring protection and holding training that brought community members together to learn how to care for it, however, our field officers explained that the water was for everyone and anyone could access it.
We saw community members urging one another to forgive their neighbors and live in harmony.
During this visit a year after, the community members are living in peace and they all fetch water from Dawi Spring without quarreling. Dawi Spring users treasure their water source, and they have kept the environment around the spring clean. While we noticed the spring we originally built is currently missing, we talked to them concerning re-fencing the spring box area and they promised to do so.
The spring's yield has been consistent over the last year, even during the dry months.
Caretaker Josephine Mutira has seen the positive impacts that the protection of Dawi Spring has brought to her community.
"We haven't experienced water-related diseases, especially among our little ones since this water was protected," Josephine said.
"The distance we used to cover and go across the road just to get drinking water has been reduced since this spring was protected. Our children can now help us in fetching water, unlike before, when we could not assign them to fetch water since they could not be that careful to remove the algae before drawing the water. Only we adults could do that. This made our chores [multiply] since other chores like farm work were also waiting."
For 9-year-old Precious, the protection of Dawi Spring has enabled her to be of more help to her family.
"It's so easy to fetch water now when Mama sends me. Before it was protected, I could only follow Mama to watch her fetch [water], but now I can fetch [water] on my own. My friends also come to fetch [water] and we enjoy going together," Precious proudly shared.
See The Water Project in Precious Andrew's Community »