October, 2019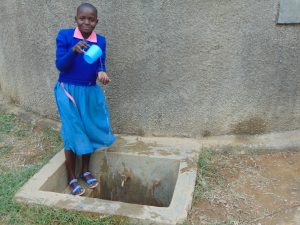 Upon entering the school compound at Naliava Primary School, you immediately notice that the school environment is clean. The classrooms are dustless. The students are healthy and excited about the availability of water in the school.
These were all fabulous changes to see as our teams recently visited to catch up with students and staff about how their water projects have impacted their school since they were installed last year. We found that Naliava Primary School continues to enjoy clean drinking water, and the pupils are happy that water is available and easy to access. Students and staff remain grateful for the rain tank, VIP latrines, and handwashing stations.
"The food is now clean since before we got the tank, we would bite into small stones. But, considering water became easily available, the cook has an easy time and enough water to clean the food properly with as much water as possible," said Teacher Mr. Kennedy Masinya.
14-year-old student Brenda Mmbone also reflected on how these projects have impacted her experience as a learner at Naliava Primary School over the last year.
"Our breaks and lunchtime seem a bit longer nowadays since we do not spend time to go and look for water anymore. We enjoy our playtime up to the last minute. Absenteeism has reduced compared to last year when some pupils would stay home because they didn't want to carry water to school."
See The Water Project in Brenda Mmbone's Community »