September, 2019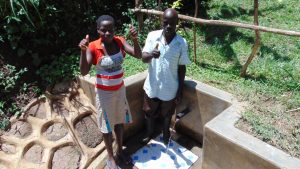 There have been many changes in Nambatsa over the last year since Odera Spring was protected. Community members have been able to unite and work together on different family occasions, unlike they ever have before. There used to be so much division across the community and even within families, but the spring has brought them together.
Sanitation and hygiene have also improved. This is visible as one can see dishracks and compost pits that did not exist during our first visit to this community. Community members have embraced the knowledge they acquired during the sanitation and hygiene training that was held during the implementation period.
One can clearly see that this community desired to have a protected water source by looking at how they have maintained their spring. The fence is intact and some flowers have even been planted around the fence.
Mr. Jairus Odera, the spring's landowner, told us that he intends to paint the pitched stones and also inscribe the name of their spring into them to make it more visible and beautiful.
The spring is indeed treasured.
"Apart from us having clean water, protection of this spring has made it possible for us to fetch water even at night. Previously one could not fetch water at night because of a lot of caution that was needed when drawing water using a bowl," explained Jairus.
"Right now, as long as you have means of lighting, like a flashlight, you can just go walk down the spring and fetch water since it's just a matter of placing the jerrican at the discharge pipe. The algae on [the] water before the spring was protected used to cause us diseases, the most common being cough and stomach problems. This has subsequently reduced since the water was protected."
Jairus continued to explain that his own family had been quite divided in the past, but the protected spring has changed things for the better. It has been a journey of unity for this family, and he said it is easier to work together now.
17-year-old Maria Alwang'a is also a community member in Nambatsa who, like Jairus, depends on the spring for her and her family's daily water needs.
"For the first time in my village, we have a chance to have clean water flowing through a pipe," Maria said.
"The protection of this spring has even prompted the organization that placed a chlorine dispenser at our spring back then to be refilling it often. Previously, it would stay empty for a very long period before they came to refill [it]. Fetching of water has also been made easy and less time-consuming."
See The Water Project in Jairus Odera's Community »