October, 2019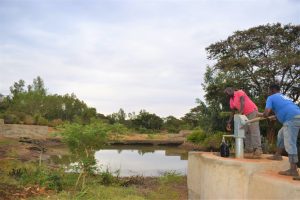 Ngitini community members are reaping the fruits of their labor from the sand dam and shallow well project that they constructed a year ago. The water project has realized its main purpose of providing a sustainable water supply for the people here.
The distance covered to access the water source for these residents has reduced from 2 kilometers to less than 300 meters, for most households. People bordering the sand dam have utilized the water for farming.
Farmer Stanley Mbithi told us that he rented land to grow watermelons the past year. The crop succeeded, thanks to the available water from the dam, and he used the profits to help pay for his children's education.
"I am very content and happy about this project, currently my greatest worries are solved because I can easily access water. The environment of this area has really improved thanks to the sand dam and shallow well system. We never envisioned this place would ever have such kinds of improvements," he said.
"Water is readily available and easily accessible to all community members. The project has impacted our lives positively."
Rose Mwikali, a community member has been cultivating kale, spinach, green pepper and green beans which have boosted her income so she too can pay for her children's education. The verdant landscape and serenity of this region is impressive, reported our team after a recent visit. The availability of water has enhanced the regeneration of the area's natural vegetation. All the farms bordering the sand dam are healthy and productive boasting a promise of good yields for the community members.
Residents of this locality ooze happiness and contentment thanks to the water project completed a year ago.
"The availability of water in this community has made life easier. There are fewer health complaints and waterborne diseases such as typhoid, which were epidemic," said Robert Kyalo, a 40-year-old farmer who uses the water point.
In addition, the presence of water has assisted them in practicing good hygiene and sanitation habits such as frequent showers, doing laundry, hand washing and proper handling of foods. Subsequently, after the sanitation and hygiene training was conducted, the community members always treat their water before drinking which has significantly reduced the cases of waterborne diseases and unending trips to hospitals.
See The Water Project in Stanley Mbithi's Community »