October, 2019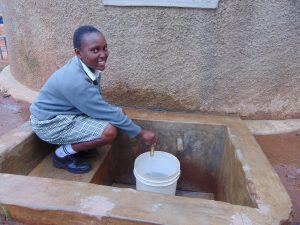 "The students used to go to the spring to get water for use, but ever since this project was implemented in our school, they no longer waste time to go fetch water since the water is in the school compound. Cases of diarrhea and typhoid have also decreased which in turn improved the health of the students and the staff. This has led to improved health and better performance in classwork."
This was the powerful account of Deputy Principal of Precious School Kapsambo Secondary Mr. Stanley Sandagi, whom we interviewed during a recent visit. We wanted to hear from staff and students how their lives have been impacted by the installation of their rain tank, VIP latrines, and handwashing stations last year.
The students and teachers really appreciate the implementation of the WaSH projects in their school. The tank and the gutters are always kept clean, and they also practice good hygiene by cleaning their hands after using the latrines and at any other critical times. This was evident as the handwashing stations have been placed at strategic places in the school compound and were filled with water when we took a look.
15-year-old Trina Ngutu is a boarding student at Precious School Kapsambo Secondary, and she reflected on how her experience as a learner has changed over the last 12 months.
"We have really benefited from this project, especially boarders like me. Before, we had a heavy burden of going to fetch water for general use in the school and also for personal use like bathing and washing our clothes. But now, water is accessible anytime and it's also safe for drinking."
See The Water Project in Trina Ngutu's Community »