July, 2019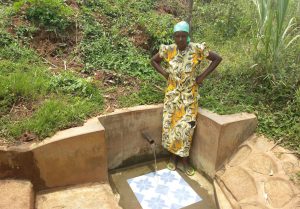 We recently visisted Mihako Spring in Sharambatsa Village, marking just over a year since their spring's protection. We were pleased to see community members enjoying a high discharge rate with clean, safe drinking water all year round.
Today, Mihako Spring users live in peace since water is now easily available for everyone. In the past year, there has been an increase in the amount of healthy food available in the community, grown on their own farms, which in return results in better health. The produce is only made possible by the water made accessible at Mihako Spring. The sale of the produce has also improved household income throughout Sharambatsa.
On this visit we found the spring to be in good, clean condition. The spring was already producing a high discharge, which only improves with each rain we get throughout the current rainy season.
Esther Luvale, a farmer in Sharambatsa, was pleased to share how the protection of Mihako Spring has positively impacted her own life and the life of her village.
"One of the biggest changes is [access to an] improved clean water supply in the community," Esther said.
"The economy of this community has improved since the increase [in the] amount of healthy food available [that we can grow]. We are now selling healthy vegetables and the demand and supply have increased over the last year."
Esther's 9-year-old daughter, Patience, also shared her thoughts with us at the spring.
"We can now access clean and safe drinking water since the spring protection, which was not the case a year ago. The water was dirty and unsafe, but now I am enjoying clean water," Patience said.
See The Water Project in Esther Luvale's Community »