July, 2019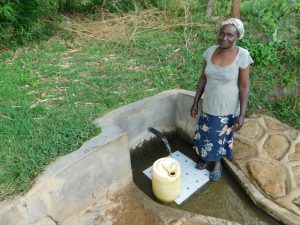 Life in Shihingo Community for the users of Mulambala Spring has never been the same since the spring was protected a little over a year ago.
On a recent field visit there, we saw how the project beneficiaries are now accessing safe, clean drinking water free from any form of contamination. Initially, the community members had a lot of challenges especially during the dry spell of the year. The spring had several sources and collecting water was a time-consuming challenge. Then, last year, all of those sources were captured during protection making the water source have a high yield even during the dry spell.
The spring is quick to fill a 20L container in just 30 seconds, thus saving community members' time. Sanitation and hygiene have improved greatly as a majority of the community members now own pit latrines that are well maintained.
Other changes in Shihingo are evident as well and are directly tied to the spring and the hygiene training. Before a majority of villagers had no clotheslines or dish racks but now, most families do have them.
Then there are the aesthetic differences we saw. Stepping into Shihingo, you are visually drawn into the environment: each and every homestead has well-trimmed flowers that make their homes beautiful and attractive. The extra watering is only possible due to the ease of accessing water.
For 6-year-old Justin Mulama, the spring has changed how he fetches water at home.
"For me, I no longer have the need to carry a bowl for filling my container whenever I come to fetch water here [because the source is so powerful]…we are accessing clean water free from waterborne diseases," Justin said.
Justin's mother, Lydia Kasiti, has been pleased with the changes she's seen in her community over the last year as well.
"A lot of changes have happened since [the] project implementation, [and] we are very grateful for your efforts and we don't forget our sincere gratitude for [the] WaSH projects in our community," Lydia said.
"The waterborne and water-related diseases [we] experienced before have reduced due to [these] initiatives. Further, the training held here helped our community embrace sanitation and hygiene. Handwashing after visiting the toilet was [previously] not common to us, but now we do practice it."
See The Water Project in 's Community »