October, 2019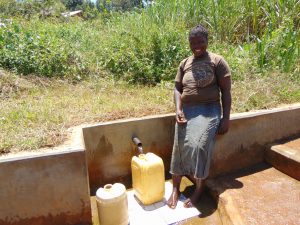 A well-maintained water source is the first thing one notices upon reaching the site – a very big improvement compared to what was seen before as a result of the training held," said Field Officer Jemmimah Khasoha reflecting upon her most recent visit to Jeremiah Mashele Spring in Shirugu.
"From the comments given by the [spring] users, the reduction in the number of illnesses breaking out in the region is also a nice improvement. This community has maintained the spring well and has really followed what they were taught in the training. Their home compounds are clean with very many trees. [It is a] serene environment," Jemmimah said.
While checking up on the spring, Jemmimah also went to interview community members about how the project has impacted them in the first year since the spring's protection.
"The biggest improvement is seen in the quality of water we get. We used to drink very dirty water but as for now, we have water that does not require very many processes of disinfecting it," said Maureen Khavetsa, who depends on the spring for her daily water needs.
Precious Ilahasa, a 13-year-old girl, shared her thoughts on the project as well.
"People do not get sick as often as it was a year ago. Our parents also have been able to let us carry clean containers which have been able to let us fetch clean water," Precious said.
See The Water Project in Maureen Khavetsa's Community »