October, 2019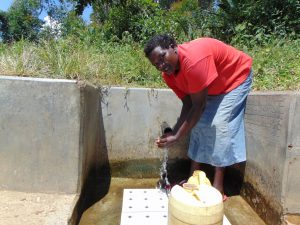 "A high number of community members who use Shapaya Movonga Spring in Shirugu are now accessing clean and safe water," reported Field Officer Victor Musemi after his most recent visit there to check up on the spring and to interview community members to learn their thoughts on the project in its first year since completion.
"There is a low rate of diseases compared to the past, and [the protected spring] has also empowered the community in terms of agribusiness. Generally, the hygiene standards have improved due to the protection of the spring," Victor said of the community.
"Community members are so grateful for this project and they really appreciate [our team] for the help [with] construction of the spring…[They] also promise to protect the environment and the spring for the next generation."
One person Victor met at the spring was Violet Issac, a community member who depends on the spring for her daily water needs.
"I am very happy with the protected spring project and now I enjoy clean and safe water," said she said.
"The state of cleanliness at the spring has improved because the community has embraced the protected spring. The community members now draw clean and safe water from the protected spring. Women don't queue for water as was the case in the past before the spring was protected."
10-year-old Celestine Isaac met Field Officer Victor at the spring with Violet as well, and Celestine was happy to share her thoughts on the project too.
"This is so great to me, really water is life which has enlightened the community. Personally, [I] am a great beneficiary of this project in terms of accessing clean water for cooking, drinking, bathing, and washing utensils and clothing," she said.
See The Water Project in Violet Issac's Community »