October, 2019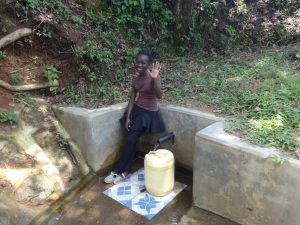 "My life has really changed because I [live] near the protected spring. After school, I fetch clean water, which helps me to wash utensils, clothes, and [do the] cooking. I don't queue because the water discharge has increased. [I] am happy I take clean and safe water from the protected spring," said Babra Kati, a 10-year-old girl living in Shitirira.
Babra shared this comment with Field Officer Mary Afandi on Mary's most recent visit to Shitiriru to check in on Peninah Spring and to interview community members on their thoughts on the project in its first year since completion.
"The community members are now enjoying clean water," Mary said in her reflection of the visit.
"The clean water has resulted [in] reduced diarrhea and typhoid diseases. Sanitation platforms, on the other hand, have acted as models in the community. People have established [more of their own] sanitation facilities. Most of the community members have improvised handwashing facilities. This is [a] big change in the community. The protected spring has really contributed towards [the] improvement of quality life in this community," she said.
Peninah Mwanzo is not only the namesake for this spring but also a farmer and leader in her community. Peninah met Field Officer Mary at the spring to share her perspective on the project's impact on her community in the last year.
"Initially, community members were taking unclean water which had bacteria and dirt particles," said Peninah.
"After protection, the water is clean and we have no more waterborne diseases…Everybody loves this water as it's very clean and we drink while very happy. We are very grateful to [you]."
See The Water Project in Babra Kati's Community »