October, 2019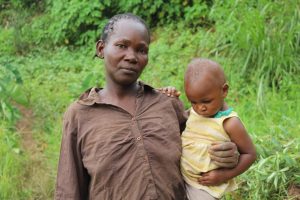 Field Officer Allan Amadaro recently visited Mashirobe Spring in Shitoto to check up on the spring and interview community members about the project's impact in its first year since completion. Allan shared the following reflection from his visit:
"The community is generally clean. Community members have upheld high standards of hygiene and sanitation. The spring is also well maintained – a sign that the hygiene training conducted during the project implementation is being adhered to."
"No congestion at the spring was also an indication that the beneficiaries have more time to indulge in other activities. This is as a result of the protection of the spring fitted with a pipe for drawing water. This makes it easy to access and fetch water at the spring."
10-year-old Kelvin Opaka told Allan that "it's easier for us to fetch water at the spring. The water is clean and we are enjoying drinking from this spring."
Allan also interviewed Judith Kanga, who depends on Mashirobe Spring for her family's daily water needs. With her baby on her shoulder, Judith explained some of the changes she has seen in her community as a result of the spring protection last year.
"The protected spring has given our village something to be proud of. The reliability of the spring is counted on by us and members from neighboring communities for access to clean and safe water, even when other springs in the area run dry," she said.
"Congestion at the spring has also reduced and it's much easier fetching water at the spring. We can now comfortably send our children to fetch water and they bring back clean water."
See The Water Project in Judith Kanga's Community »