October, 2019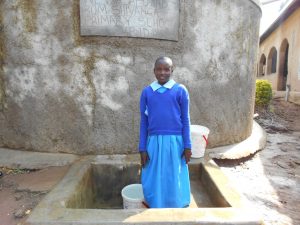 Walking into the compound of Shivanga Primary School on a recent early Monday morning, not even one student is in possession of a container in the name of bringing water to school.
This is a good sight compared to a year ago when the students were required to carry water to school.
This group seems to be up in arms to see that the situation they were in a year ago does not come back and for that, we will be with them through this journey to offer our help and support in monitoring and evaluation for anything they might need.
"A great group it is," said Field Officer Ian upon his evaluation of this visit.
The school administration sometimes requests for supply of water from the nearby Butali sugar company, which helps to supplement their rain tank's supply during the dry season. This shows that the school is eager to improve their water situation however and whenever they can, all while taking good care of their facilities. The school compound is clean and one can already spot new lines of flowerbeds in the school, indicating both pride and development as a result of their improved access to water.
"The biggest change is that children no longer have to move in and out of class to go fetch water," said Head Teacher Mrs. Miriam Memeti.
"As a parent, I feel good as there were so many hazards they were exposed to. Also, now, we have clean water. One is sure to find clean water at any one point as opposed to when you had to pour it out to confirm both color and smell."
10-year-old student Anne Steven also shared her reflections on how the WaSH projects have impacted her experience as a learner over the last year.
"Nowadays we don't have to carry jerrycans to school. We have water in our school and it is clean. Nowadays we even mop our classes more than once a week."
See The Water Project in Anne Steven's Community »