September, 2019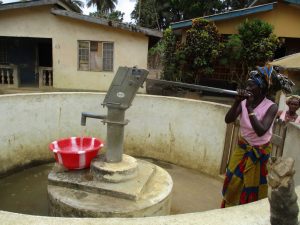 The transformation of this well through the rehabilitation a year ago is mirrored by the community members who rely on it.
"Initially when the well was an open one, we normally used rope and rubber to fetch water from it, which [was] very risky to the community and more especially children. Sadly we were all going to the swamp to fetch water, which causes many people to fall sick due to drinking water from an unprotected site," said John Kororma, reflecting on the water situation the community faced in the past.
"But thank God for the intervention that gave us clean and pure water by rehabilitating our well into a borehole and installing a hand pump on it. We now boast a healthy community. Since the intervention, there has been a low rate of sickness around the community."
Our team said that community members here are taking good care of the pump and also cleaning their households. This community has improved so much because of the fact that they not only access safe water, but people are utilizing the lessons learned during the hygiene and sanitation training. Our field staff reports that the community is really doing great in terms of hygiene and sanitation, so we just need to continue to monitor their project and visit the community as planned.
Thaimu Kanu, an 11-year-old boy we met, said he used to fall ill from drinking water in the past. Now he is healthy.
"This well is a great change that happened in my life," he said.
See The Water Project in Thaimu Kanu's Community »