September, 2019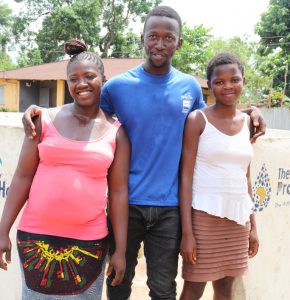 The availability of this well has completely brought positive change to people in Tintafor, said well caretaker Miatta Lansana to us during a recent visit. The huge burden of going down Banda Wharf to fetch water has been eliminated.
People used to travel a mile to the source just to get water that was not even safe for drinking. Children and elderly residents struggled especially due to the fact that the walk back, with the heavy containers of water, was up a long hill.
These problems are in the past thanks to the completion of the well a year ago.
"You have assisted greatly in giving us safe, clean, and pure drinking water," said Mrs. Lansana.
There is also a significant fall in reported cases of waterborne diseases. The people are now drinking from a pure water source that is free from contamination. The days of fear of a cholera attack in this community are quickly becoming history.
"Life has completely changed for the better," said 15-year-old Marie Gibateh.
"Fetching water down that hill was not an easy task. Now the distance to the well is almost a stone's throw away which makes it easier to fetch water."
See The Water Project in Marie Gibateh's Community »