October, 2019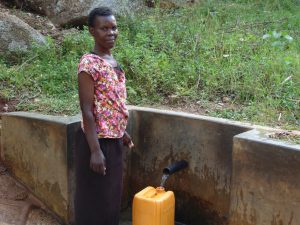 Field Officer Samuel Samidi recently visited Wambosani Spring in Upper Visiru to check up on the spring and interview community members about the project's impact in its first year since completion. Samuel shared the following reflection from his visit:
"I arrive at the village at about 10:00 am, [and] guess who welcomes me? Tommy, one of the dogs in the village!"
"[During] a spot check at the various homes, one is able to observe a clean and tidy environment with at least all the sanitation facilities in place and this is attributed to the hygiene and sanitation training conducted in the village…The hygiene and sanitation training has brought about positivism in the community as the members now observe both personal and environmental hygiene to the standard."
"Protection of the spring has brought about immense improvements in the community…The community members can now access clean safe water thanks to the springs protection….compared to years back when the spring had not been protected, which did risk their health. Community members spend minimal time at the spring thanks to the discharge speed having improved."
"From the interviews conducted, the community members are appreciative of the project and have endeavored to maintain it to the standards required."
Mary Manase is a village elder in Upper Visiru who spent time with Samuel to share her perspective on the WaSH projects her community received last year.
"Water is life; a shortage of it leads to paralysis. We, the beneficiaries are happy and grateful to our partners for considering us for the project," she said.
"The project has brought about major developments in our land thanks to our partners. As a community, the rate of illness related to water has dropped after the spring's protection."
"The hygiene and sanitation training conducted in the village was detailed and we did gain much information and this we have put into practice. As a community, every household has at least all the sanitation facilities required in a home thanks to the frequent sensitization carried out by our leaders," Mary said.
14-year-old Agnes Lidambiza is a student in Upper Visiru and the eldest child in her family. Agnes told Samuel of the changes the spring protection and hygiene training have brought to her life as a young person in her village.
"As one of the beneficiaries, I would love to thank [your team] for considering us. Ever since the spring was protected, I now access clean, safe water for my personal use. Securing the catchment area has helped tap clean safe water at all times. I spend minimal time at the spring as the discharge speed has improved thanks to the installation of the pipe, which helps direct sufficient water into the jerrycans," she said.
"I now observe both personal and environmental hygiene after undertaking the hygiene and sanitation training conducted at the spring. I also enjoy sufficient time in my academics. This year, I have been able to register major improvements in the various subjects [I] am undertaking at school."
See The Water Project in Mary Manase's Community »