November, 2019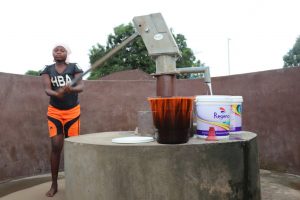 The community has changed greatly in the year since the completed well project at Kasongha Maternal Child Health Post in Sierra Leone, our team recently heard during their latest visit there.
"My life has changed academically and also the sanitation in our compound has improved," said Adama Bangura, a 13-year-old girl.
Field Officer Omoh Emmanuel made a personal visit to the community and as a part of our quarterly visits for the monitoring and evaluation reporting. He observed that most of the houses now have toilets with water and soap in them.
"It's like the practice is part of them now. If a community member does not meet these standards, the rest of the others will look at them critically," he said.
The well and its surroundings are kept clean. The hospital also is helping to pass the message of hygiene and sanitation around the community, most especially when people fetch water from the well at the health post. The community members help greatly in taking care of the well. People are complying with the lessons imparted by our hygiene team last year.
"The intervention has improved our lives and [the] community status has changed rapidly in the area of hygiene and sanitation. The water is fresh and clean to drink, and the community hygiene status is moving up rapidly every day," said Jane Kaloko, a maternal and child health aid at the clinic.
"The initial state of the pump was like a trap for different waterborne diseases. The well didn't have proper control so anybody or anything could just walk in the well and do whatever, and the well was unkempt. Now the well is cleaned every 2 days. The ladies tie their hair back before entering the pump to help keep it clean. Now that the pump is clean and the water is fresh to drink, everybody is coming to fetch from it."
The community is cleaner too. More households have a toilet, and they also have handwashing stations that are maintained with full water and soap available for anyone to use.
See The Water Project in Adama Bangura's Community »