Schools Helping Schools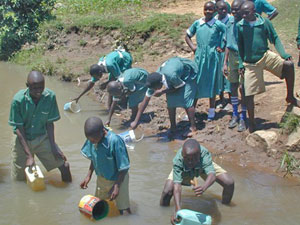 Your school can do more than just save lives in Africa...you can change them.
Schools across the US, Canada and even Europe have been helping raise money to dig and repair wells in Africa, and so can yours.
When your team helps provide clean water to schools, you'll be giving the gift of education. Students who have clean water stay healthy and can stay in class, instead of walking miles every day just to collect dirty, unsafe water. You will change lives by breaking the cycle of poverty.
The Water Project is ready to help you make your fundraiser a success.
We've made it easy to get started with "The Water Challenge" - a ready-to-go fundraiser that can be started with little effort and takes only two weeks. (It even works great in a down economy because no one is asked to donate extra money but rather to trade an expense for a life-changing gift.)


We've got a large collection of photos on Flickr for creating your own customized flyers and posters with your school or team logo, etc.


Projects as small as $500 will receive a report of the well they have repaired or built, including pictures, and often GPS coordinates that will allow team members to see where the project they funded is on Google Earth, etc.


Learn More
Read more about Wells For Schools
Meet our heroes and see what these schools and groups did to help.
Ready...Set...Go
Get Started Here at The Water Challenge