---
Tuesday, February 10th, 2009
by Peter
---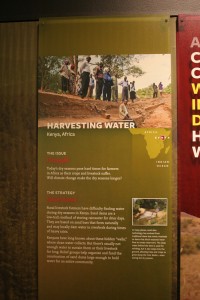 In October 2008 one of our sand dam projects in Kenya went on display at the American Museum of Natural History in their Climate Change: The Threat to Life and A New Energy Future exhibition.
This exhibition covers the broader issues of climate change and some of the solutions that various communities have been using to adapt to it.  One of those solutions is the weir, or sand dam.  In Kenya, we have been funding these types of projects over the last few years.
In the picture on exhibition, our local partner, the Africa Brotherhood Church, is seen with their weir under construction in Nginni in May of 2008.  Peter Chasse, President of The Water Project, snapped the shot as together we celebrated with them about the change that was coming.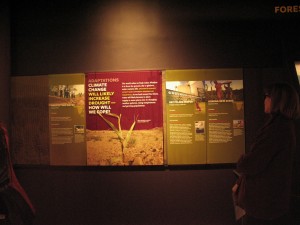 We're excited to see the work of the ABC on display for the world to see.  These kinds of projects make a huge impact and we hope with your help, we'll be able to continue funding them.
The climate change exhibition can be seen at http://www.amnh.org/exhibitions/climatechange/
Home
More Like This
---