---
Friday, April 3rd, 2009
by Peter
---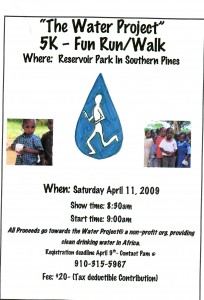 On Saturday, April 11th, Aubrey D. is hosting a Water Project Fun Run at Reservoir Park in Southern Pines, NC.
Aubrey and her friends will be walking/running the same distance that many children in countries like Kenya must walk every day, just to find often dirty water.
You can certainly head out to take part, or you can support Aubrey right here.
Home
More Like This
---