---
Thursday, July 23rd, 2009
by Peter
---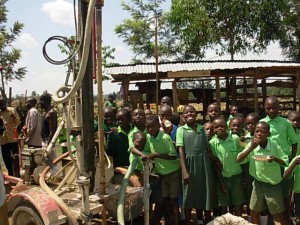 Our crew has just sent in some photos from the Precious Academy in Western Kenya.
For this project our crew was sent in to replace a well that had not been drilled properly by another driller.  The old well had collapsed internally.  The school and local community were in desperate need of a clean, safe and reliable water source.
The good news on this project is that the well pump from the faulty borehole could be salvaged and is in good working order.  The last step before this project will be complete is moving that pump onto the new borehole casing seen in the pictures below.
We're awaiting a full report including more photos, GPS coordinates and the total number of people it will benefit.  We hope to update this post soon with that new information.
We're glad to be able to restore this vital source of clean water for the community.
This project was funded by:
Individual Donors: Gift Dates Between 3/11/2009 – 4/3/2009

Pierce Middle School – Milton, MA
Waunakee Community School District – Waunakee, WI
La Follette High School – Madison, WI
Agawam High School – Agawam, MA
Mt. Olive Baptist Church – Royse City, TX
Osseo-Fairchild Schools – Osseo, WI
EarthTech
Please note:  Since our crew was able to salvage the pump, the final cost may be lower than we budgeted.  We will apply overages to a future well project.
Back
---