---
Monday, September 21st, 2009
by Peter
---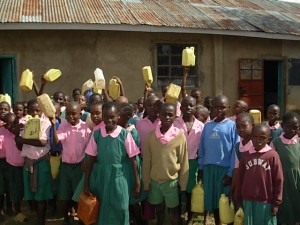 Update: Jan. 1, 2010
The drill crew has encountered hard rock formations which their drill cannot penetrate.  We are awaiting access to a compressor to break through.  We hope that arrives by Jan. 11th.
Updated: Oct. 7th, 2009
Construction is about to has begun on the Ikobero School and Community Well in Western Kenya. This community is located about 30km from Kakamega in the Busali Location.
Lat. 0.25136 N – Long. 34.62089 E
The school has over 600 students who, along with the 1,000 community members, will soon be enjoying clean and safe drinking water.
Previously, these students walked nearly 3km to collect water from an unprotected stream.  Many suffered from water borne disease, according to Mr. Irangi, a local community leader interviewed about the water situation.
A water committee of 3 men and 7 women has been formed, and together with the community they have raised nearly $300USD to cover the initial expense of the well survey and permits.
This well is one of two new wells being funded by:
Mayo High School – Rochester, MN
[xmlgm {http://thewaterproject.org/kmz/ikobero.kmz} zoom=18]
Back
---