---
Monday, April 26th, 2010
by Peter
---
Originally published at http://www.caymannetnews.com/news-20941–1-1—.html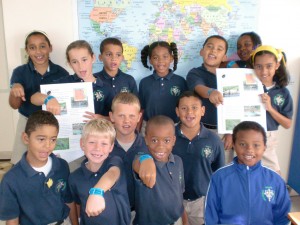 Grade 2 children at Grace Christian Academy learned the lesson of compassion and world service recently with a project they undertook to aid African children.
"After researching using our school's new Smart board," said Lauren Sommerville , Grade 2 teacher, "we found a charity called 'The Water Project' (www.TheWaterProject.org). This charity provides schools and other organizations with fundraiser packs to raise money to help provide safe, clean water to African children." The students drank only water for two weeks, giving up all sodas and other beverages, in order to donate the proceeds of the money they saved to help build a water well in Africa.
The students were compelled to reach out to other children after studying Africa in class, particularly those countries where many of the children do not have clean water to drink, such as Chad, Kenya and Nigeria. The Grade 2 class raised a grand total of US$156.74.
"It is such a great achievement," said Ms Sommerville, "for our class to have raised money for The Water Project."
Home
More Like This
---