Thursday, June 17th, 2010
by Peter
By Karen Quackenbush – 2nd Grade Teacher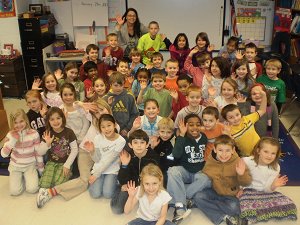 Columbus Signature Academy is a new project/technology based school in Columbus, Indiana.  Our curriculum is powered by student driven projects and the 21st Century skills of technology.  So our students determine what we will be working on, and teachers guide the process.
Our Well Project began when Olivia Linnemann, one of the students in my class, shared about her family's project to help build a well in Ethiopia.  Her family had adopted triplet babies from Ethiopia and decided that they wanted to help those people in Africa who needed clean water.  When Olivia shared this with the class during our morning meeting, Molly Dye, one of my other students, raised her hand and asked, "Could we help drill a well?  The whole class immediately jumped on board and became excited about helping other students like them far across the globe.  The idea that they, as 2nd graders, could help save lives, gave true meaning to project based learning.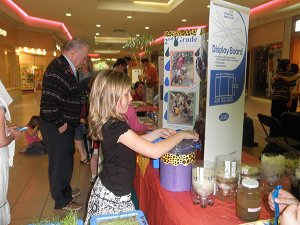 We then  asked Olivia and her mom, Amy Linnemann, to present the project idea to Rhonda Brill's 2nd grade class, since we work on most of our projects together. They were equally excited.  Students were alarmed to discover that kids, just like them, couldn't go to school because they had to walk all day searching for water for their families to drink. And worse yet, sometimes, children would die from drinking that water. We all sat down together and made a list of the ways we could learn about the project and raise the money to drill a well for a school in Africa.
We spent a semester of school working toward our goal to raise $4500 to fund an entire well for a school.  All parts of our curriculum were integrated into the project.  Students opened and operated a mobile school store, selling school supplies and snacks before school and during Passions time, when students work on personal projects of their choice.  The store taught us many important math skills as we added and subtracted totals every day to see how far we had come.  We learned about money, pricing, profit, and giving back change.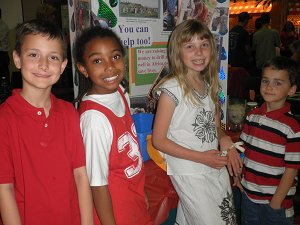 We wrote letters and made phone calls to businesses and famous people asking for donations or any other help they could give. We studied the countries in Africa, researching, writing reports and giving PowerPoint presentations.
The Well Project became our Science Project as well, as we made our own water filtration systems and aquifers. We presented our African Well Project to the Columbus community at the Bartholomew Consolidated School Corporation Science Fair selling wristbands and collecting donations.
We covered Health standards as we learned all about the health hazards of drinking polluted water.  We sold Flowergrams, donated by Gilberts Flower Shop, on Valentines Day to students, parents, and staff.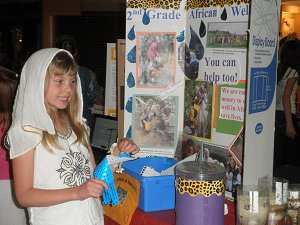 A 2nd Grade Bazaar was planned with the help of our Art teacher, Tonya Cruiser.  Students sold handmade crafts created during Art class. We also made a recipe book of students' favorite recipes and sold them to friends and family.
In a earlier project our 2nd graders had made a movie about the Titanic passengers.  We decided to sell DVDs of the movie and add the profits to the Well Project funds.
When we had just one week left on our project timeline, it seemed we would fall short of our project goal. That was when Olivia presented the project to the New Hope Christian Church, which her family attends. Olivia could hardly contain her excitement that Monday after the presentation.  She came into the classroom jumping and yelling, "We reached our goal!  We reached our goal!!!  Everyone cheered!
The next Thursday, Amy Linnemann brought in the checks and cash from the church members. She also brought in her own check she had promised to our class for obtaining and charting 595 points for learning things about Africa and water throughout the project.  Each point was worth $1.  A newspaper reporter was there as the 2nd Grade classes, with great anticipation, totaled up the columns in our final math problem of the project.  Students and teachers cheered and clapped, jumping to their feet as the total appeared $5078.50.  After paying off some debts for purchases, we were able to donate a total of $5000.
We had succeeded.  We would be able to drill a well for a school in Africa, saving lives and changing the world for not only those in Africa, but those who were fortunate enough to be a part of this rewarding, life changing project.  Thanks to The Water Project for what you do!
Home
More Like This
---