---
Thursday, August 12th, 2010
by Peter
---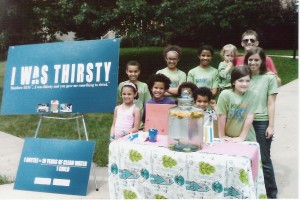 This June, North Way Christian Community, a church in Wexford, Pennsylvania, hosted their annual  summer camp, Kidz GIG.   The objective of the week-long camp was to teach kids about the importance of service. The result: kids modeling true service to the entire church.
Kidz GIG, accepted an ambitious challenge. Inspired by the Water Project (www.thewaterproject.org), 330 kids and close to 200 leaders, agreed to drink only water for 5 days and collect the savings to build a well in Africa. We set a considerable goal of $6,000, enough to build a complete well, and believed that God was going to accomplish this through the hearts of our children.
Such a lofty goal needed to be attacked from all sides. We took advantage of the terrific resources provided by www.thewaterproject.org: bracelets, pictures, and videos. Additionally, we created a Donation Destination that featured those resources and a sign with Matthew 25:35 "I was thirsty and you gave me something to drink."  We also put that verse on water bottles and sold them for $10 each.  Likewise, we created cups for children to collect the money they saved.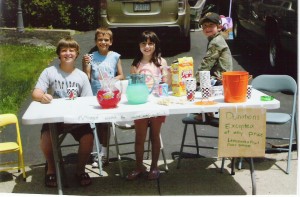 We knew that our challenge needed to speak to the head and the heart, so Monday's lesson was from Matthew 5:41, and asked kids, "what in the world are you doing above and beyond." We had no idea, however, just how far above and beyond these kids were willing to go. God's word seized their hearts and the Spirit prompted them to live it out, not because we told them to, but because they wanted to. Kids came to camp on the second day with not only money from their water drinking sacrifice, but with money that they earned selling lemonade and going door to door in their neighborhood.  One child purchased the water bottle, encouraged her dad to take it to work and ended up selling 10.  Entire families got engaged and set up water stations in their driveways and sold tap water.  A four year old made brownies and sold them at her swim class.  Children would not even put milk on their cereal! One child told his dad how upset he was at the "waste of water" in the decorative water fountain across from our church.  The energy built as we asked "what in the world are you doing to help the rejected (Luke 10: 30-37) and "what in the world are you doing to put others first" (John 13:1-7).
By the fourth day, an anonymous donor offered to match the donations for the final day.  As God would have it, the lesson for that morning was from Matthew 6:1-4 and asked, "what in the world are you doing that only God knows." God used that person to model true service to the kids and to demonstrate how He uses regular people to serve His purposes.  By the end of our last day, the children and families had collected $6,055, the donor match was $3,000 for a total of $9,055!!!!!  Glory to God!
Home
More Like This
---