---
Tuesday, February 15th, 2011
by
---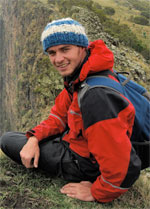 Jambo! Habari ya leo? I'm Jack Owen, Program Director here at The Water Project. I've been learning some KiSwahili this morning – just one of the many things on my 'to do' list as I start my year based in Kenya as The Water Projects 'man on the ground'. I joined up with Peter Chasse and the team about a year ago as a volunteer working with one of our implementing partners here. After 6 months my role changed, I'm no longer a volunteer, and I'm now responsible for all things related to our water, sanitation and hygiene projects – our WASH program.
Over the next 12 months I'll be here in Coast Province, as well as on the hoof as I travel to visit our partners across Kenya, but also in a few other interesting places. We have partners in Uganda, Sudan, Sierra Leone and India. I'm hoping to get to meet as many of them as possible, to see the great work they are doing, and to try and document some of it. For people who don't have the pleasure of being here, feeling the African sun as I am today I hope this blog will answer a few questions as well as help to create a few more. Lack of clean water and adequate sanitation is a massive problem across the world, and the more people who know about it the better.
For this first entry, as I'm new to this, I wanted to write a little about where I live. I've found a small house in the town of Mtwapa, about 30 minutes drive north of Mombasa. It's a fast developing town, with new developments spreading out from the road towards the sea, and is a popular spot for tourists seeking to get away from the big city. It's a place full of contrasts – the white tourists with their air conditioned apartments juxtaposed with local Swahili families living on less than $1 a day. There is stark inequality here in many ways, especially in terms of opportunity (for work, education, healthcare, etc). Interestingly from my point of view though, there is one area where all are equal.
Water in Mtwapa is sourced from under the ground, in aquifers. The tiny pockets of air that are present in a lot of rocks (especially limestone, which is very porous and as we are near the coast, the main formation here) fill with water when underground. This water is called groundwater, and is an amazing resource right under our feet. In order to access this water, people use drilling machines to make deep boreholes, and fit plastic casing to below the level of the groundwater. After that, in areas such as Mtwapa they insert pumps into the casing, and then pump the water to the surface. That is all well and good, but in Mtwapa there is a problem.
The groundwater in Mtwapa is salty, and not just a little. The water coming out of my taps tastes like the sea. And here's where I come back to the inequality thing. Whether rich or poor, black or white, the water coming out of your tap is the same. Everyone has the same problem to deal with.
So why is this? Well, we're close to the sea, and naturally salt water mixes a little with the fresh water from inland. The problem is, that as more hotels and housing developments are built, the water level in the aquifers drop. When that happens, more water flows into the aquifers from the sea, creating even more saline water. As Mtwapa grows, we can expect this to become an even bigger problem.
So one week into my year in Kenya, and I am experiencing the water crisis first hand. What can I do about it, other than buy mineral water to drink (which is also bad for the environment) and accept my salty showers? Of course in the long run the only way to get a hold on this problem is for us all to reduce the amount of water we use each day. I'll write more about the degree to which this is already happening in another post.
Expect more of these kinds of ramblings as the year goes on – feedback would be helpful for me though! Tell me what you like, and what you don't. Ask me questions, tell me interesting things you know about water. I'd like this to be a conversation, so if you've got this far, it's now your turn to say something. Feel free!
Till next time, Kwaheri!
Home
More Like This
---