---
Tuesday, March 22nd, 2011
by Peter
---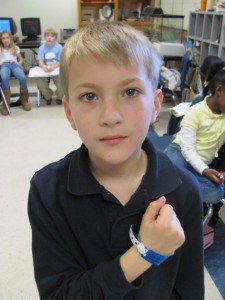 Winn Murray is an 8 year old boy in Macon, Georgia who is changing lives … not only in Africa where his fund raising efforts will bring clean water, but right in his home town.  In fact, Winn's simple but bold act of caring has inspired  7 more schools in Macon to get involved.  In fact to date, we've sent out over 1,000 wristbands that proclaim "I'm Giving Water!" to these schools … wrist bands just like Winn and his classmates wore in early March when they carried water for a day to raise awareness and support for clean water.
You can support Winn's Fundraiser here »
Michelle Gowan, Winn's REACH teacher, shared with us, "This year, our curriculum focus has been infusing technology into our discussions of scarcity of food, energy and water around the world. When we studied the inequitable distribution of resources around the world, my class decided to purchase a goat to send to an African family. They collected about $130 by doing extra chores and we donated the goat through World Vision. When I began my lessons on water, I really had no intention of building a well because it was difficult enough for us to get enough to buy a goat!"  But Mrs. Gowan wasn't counting on Winn!  He decided to do something.  The issues of unclean water resonated with him, and he started his own hometown revolution.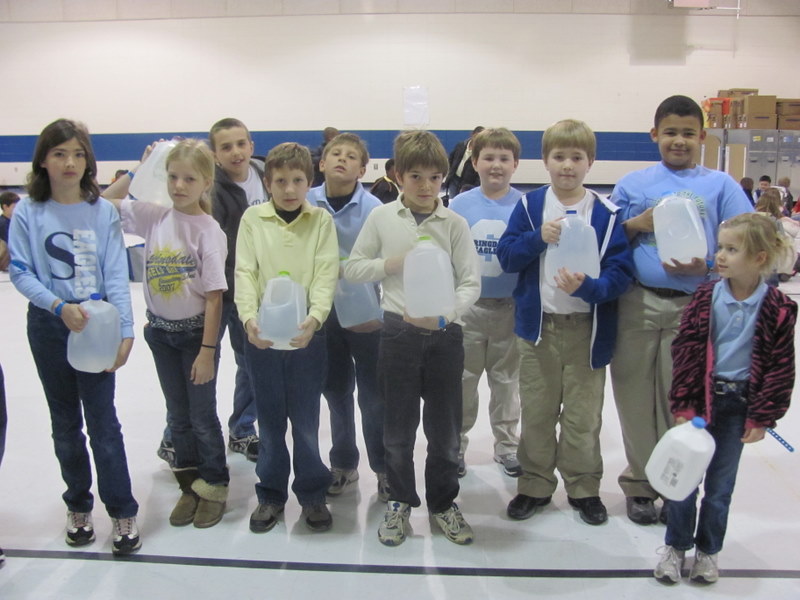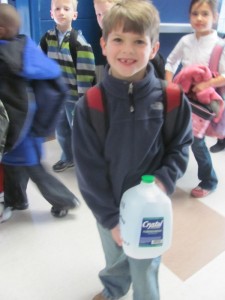 Winn came home from school one day and was counting to 15, only to start counting to 15 all over again.  As reported in the local newspaper, Winn's Mom Tiffany asked what Winn was doing.  He promptly informed her that every 15 seconds a child dies from water borne illness.  (read the full article here.)  Winn gets it …the issues are real, and they matter to families all over the world.  Winn took the steps to setup a personal fundraising page for a well project.  And he brought the idea back to Mrs. Gowan.
"To be honest, I taught my lesson, checked it off of my lesson plan and prepared to move on….but the teacher can't move on if the children won't come with her! Winn came back to class with his water bracelets and we began to discuss how we might be able to contribute something even if it was not enough to build an entire well.", says Mrs. Gowan.  They decided to carry water, and soon the whole school wanted to get involved.  Then other schools caught on and joined the movement.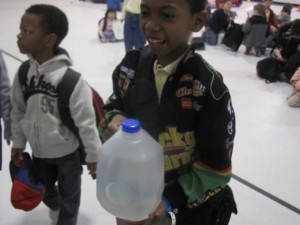 The other schools will be donating to Winn's fundraising page with the goal to raise enough for a well project.  And I hear that Winn was invited to speak to the school board, and is being asked by some of the other schools to come and speak to the students and raise awareness.   The community of Macon won't be the same, and communities in Africa will be the better for it.
As Winn's Mom Tiffany shared with us, "This has become an incredibly educational experience in so many ways and we are constantly amazed at the random acts of kindness committed by other people, often people we have never seen or even met. "  Further, she encourages us all with, "Maybe our story, Macon's story, will inspire others to think globally and act locally in their own hometowns."
We think Winn, his family, his class, and the community of Macon, are well on their way to doing just that!
As of World Water Day, March 22nd – we got word that Winn has raised over $6,500.  Enough for his first entire well!!
Home
More Like This
---