---
Thursday, April 21st, 2011
by
---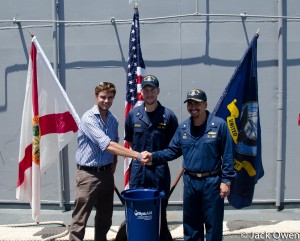 Over the past few months there has been an interesting collaboration happening involving The Water Project, The US Navy and Hydraid (www.hydraid.com), all in the interest of aiding communities in Africa as they try to rise up from poverty and ill health. So what's been going on? Well…..
… a few months ago Christina at Hydraid got in touch and said they'd received a donationa and wanted to pass it on to us at The Water Project, in the form of 15 Hydraid bio sand filters. Of course we said great, and got to work thinking about which of our partners could best use the filters. In the end we decided to send them to Busoga Trust America, who are doing some fantastic work for us in Masindi Uganda (http://busogatrustamerica.org/).
Whilst we were thinking about that, Christina at Hydraid was working to secure free passage from the US with Project Handclasp, a US Navy program that transports aid and development materials across the world freely when they have available apace aboard their vessels.
This all happened months ago, and had been on the back burner for a while until I got a call from Lt Lincoln aboard the USS Stephen W. Groves, saying they were due to dock at Mombasa port and had the filters on board!
I zoomed down to the port on the bike, had a quick lunch with Captain and crew and arranged for overland transport to Uganda. The filters arrived yesterday, and Busoga are already planning to get them working ASAP.
So there you go, a three way collaboration, across two continents, all in the name of clean water!  We're so thankful to the generous donor who made this possible.
For more info on what bio sand filters are, and how they work to make water drinkable, check out http://www.hydraid.org/sol/index.htm
Finally, for all you low tech gurus and local enterprise enthusiasts, BSFs can also be made with local materials at very low cost. An idea we are working on at present is to take the Hydraid solution and use it to stimulate local businesses – there is of course no reason why local folks can't make these themselves!
Home
More Like This
---