---
Monday, June 3rd, 2013
by julia
---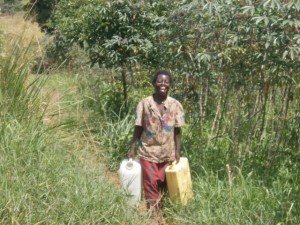 We all know how much our military men and women give in service to our country, but LT Jared N. Smith, Command Chaplain in the Naval Air Facility El Centro, also encourages his congregation to give generously to important causes like The Water Project.
The Navy must donate the congregation's weekly collection to non- profit organizations, and Jared makes sure that they give to local, national, and global causes.  After hearing about The Water Project from a donation his brother made and learning more about water scarcity, Jared decided to give some of the congregation's funds to fight water scarcity.
Jared says that the water crisis is something that some Navy men and women have experienced firsthand. Before entering the military, he had such an experience. Jared spent three weeks in the Democratic Republic of Congo where he saw people walk miles for dirty water with no clean water available. "The most motivating factor for me to give is that I have seen the people who are impacted by this work, and I encourage those who have had these experiences to tell our stories of the people affected."
The money that Jared's congregation donates is given to be used wherever it is needed.  He says it's important to support the effort however necessary because addressing water scarcity is one of the most effective ways to fight poverty.
His humility and the generosity of his congregation just add to the admiration we hold for our service men and women who give so selflessly in so many ways. Jared believes that we can all work to end the water crisis.
Knowing how tirelessly our men and women of the military work can inspire us all to do our part in ending this crisis. As Jared says, it will happen if we continue our hard work. "There's no reason we cannot provide clean water to everyone in the world who needs it. . . well by well, town by town, village by village, country by country, we can do that."
A school in Uganda is receiving clean water in part from the donations from Jared's congregation. Check it out here. And give a salute in honor of Jared and our friends at the Chapel in El Centro.
Home
More Like This
---