---
Thursday, August 20th, 2015
by Lisa McAllister
---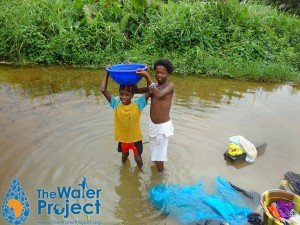 Ebola has been a tragic reality for the people of Sierra Leone over the last year. In the middle of this, we've remained more committed than ever to the people of Sierra Leone through a service and support program that focuses on keeping water flowing at approximately 100 previously installed projects. We're also providing new water access for communities- made possible because of your support. Our partner and teams (Mariatu's Hope) have been brave and selfless – and we are so proud of them.
Now, the N'Baimbaya community has requested your help.  238 people, 120 of whom are children, believe their future doesn't have to be drinking from a swamp. Our teams are currently working with the community to develop a WaSH Committee and have commented on the undeniable hope they find in the initiative and cooperation from this community. Now it's your turn.
Let's stand with them and make a new water well a reality! 
Donate Today and See your Impact!
Learn more about the community.
Home
More Like This
---