---
Monday, September 21st, 2015
by Lisa McAllister
---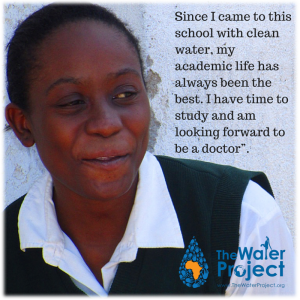 Meet Abigail. A young girl from Kenya, now 18 years old, who had lost hope of pursuing her dreams until she had access to clean water.
Abigail was only 16 years old when she joined Igunga Girl's Secondary School. She had come from a school in the neighboring county which did not have any source of reliable, clean water. "It was tough for me and other girls. We walked long distances in search of water hence we did not have time for studies. This killed my morale to pursue my goals and dreams."
At one point, Abigail saw a member of parliament come to the school and thought he must be carrying good news. "I thought school management would consider seeking for the possible ways that would help us have a water source in school, but this could not happen anytime soon."
Abigail did not see any help come from the member of the parliament. Instead, she started to plead her parents to take her to another school which had a clean water source in place.
"I was scared. I didn't know what my future would be in a school with no water source."
Her parents decided to transfer her to Igunga Girl's Secondary School who, thanks to the partnership of The Water Project and Bridge Water Project, had a source of clean, safe and reliable water.
"I felt like a super girl. When I got in the new school, the first thing I saw was a hand pump provided by The Water Project. A good number of girls were pumping water joyfully."
This well has greatly changed the life of Abigail and other girls in the community. "Since I came to this school, my academic life has always been the best. I have time to study and am looking forward to be a doctor," says Abigail with a smile.
The school has since upgraded the well and now installed a submersible pump making it easier to fetch water since there are several water points around the school compound.
Besides performing well in school, Abigail has been tasked by the school to be in charge of hygiene and sanitation; a task she enjoys managing. Abigail has finally found the solution that will enable her to continue to chase her dreams.
Home
More Like This
---