Please note, all photos in this story were taken before physical distancing recommendations went into effect.
Mr. David Murumbi lives in Shivembe in Western Kenya, where he is the landowner of Murumbi Spring. Mr. Murumbi has lived in Shivembe for the past 48 years – since he was born – and has drunk water from his unprotected spring the whole time.
When our staff first approached Mr. Murumbi during a visit to the community to learn more about his spring, Mr. Murumbi stated that he was "not ready to be lied to" and thus was a bit resistant to give our team the required information about the spring. Before we could commit to protecting Murumbi Spring, we explained, we needed to know basic details like how many people use the spring daily and if the spring had ever gone dry. Though the questions were general, Mr. Murumbi was at first not convinced they were worth his time.
The community members knew this about Mr. Murumbi and branded him as the "Doubting Thomas" as he never believed the spring would truly be protected. He argued that for many years, his community had been used by others with the pretense that their spring would be protected, but nothing had ever happened. Even when our team collected a water sample from the spring – the last step before construction – Mr. Murumbi doubted the project.
"I will only believe in you people when I see the lorry bringing in the hardware materials," he said.
Finally, on the day that the hardware materials were delivered to the spring site, the "Doubting Thomas" believed!
It took Mr. Murumbi seeing the hardware delivery to notify the rest of his community that it was now time to mobilize the materials they had collected for construction. These included bricks, wheelbarrows of clean sand, and stones. Community members worked together to bring their materials to the spring site, carrying most items by hand. Accommodations and meals were provided for the artisan, too, who arrived the following day to officially begin work.
For the next 2 weeks, women and men lent their strength to the artisan to help him with the manual labor. After another 2 weeks went by to let all of the plaster and cement work cure, Murumbi Spring was finally protected and ready for use by the 161 people in Shivembe who depend on it for all of their daily water needs.
As soon as it was ready, people got the okay from our field officers to begin fetching clean water. We met them there to celebrate this momentous occasion. Not least of whom to voice their excitement for the newly protected spring was Mr. Murumbi himself.
"I am so happy that our spring is protected. In the past, many people [told] us that our spring will be protected but it was never fruitful. We drank dirty water and suffered waterborne diseases. We thank God for you who were God-sent to us to protect the spring. I will personally ensure that this spring is well maintained," he said.
Community member and farmer Ruth Ashitiva also expressed her thanks.
"We have always drunk water from an open source and many of us have been suffering from typhoid since the spring was open; when it rained, heavy water could overflow into the spring and contaminate it. But we thank you for protecting this spring and we know it will save us the cost of medication."
For every project we set out to do, our commitment to the people we serve is personal. That's why we call our commitment a promise. There are too many people like Mr. Murumbi in every community who have known only broken promises about securing a clean water point.
When a community invites us to work with them and we determine a project is viable, we become the gatekeepers of access to clean water. And every time, we promise to stand by that community not just until they have clean water, but every day after that.
When challenges arise at their water point after it is completed, we work with the community to resolve them. When water tables shift due to climate change, we work to find a new way of accessing clean, safe, and reliable water within the same community. And when unexpected events such as the COVID-19 pandemic prove how access to water, sanitation, and hygiene are more essential than ever to a healthy and resilient community, we continue to show up in the field in whatever way we safely can.
Because clean water is just like a lorry delivering hardware: it's only as good as it sounds if it shows up without question.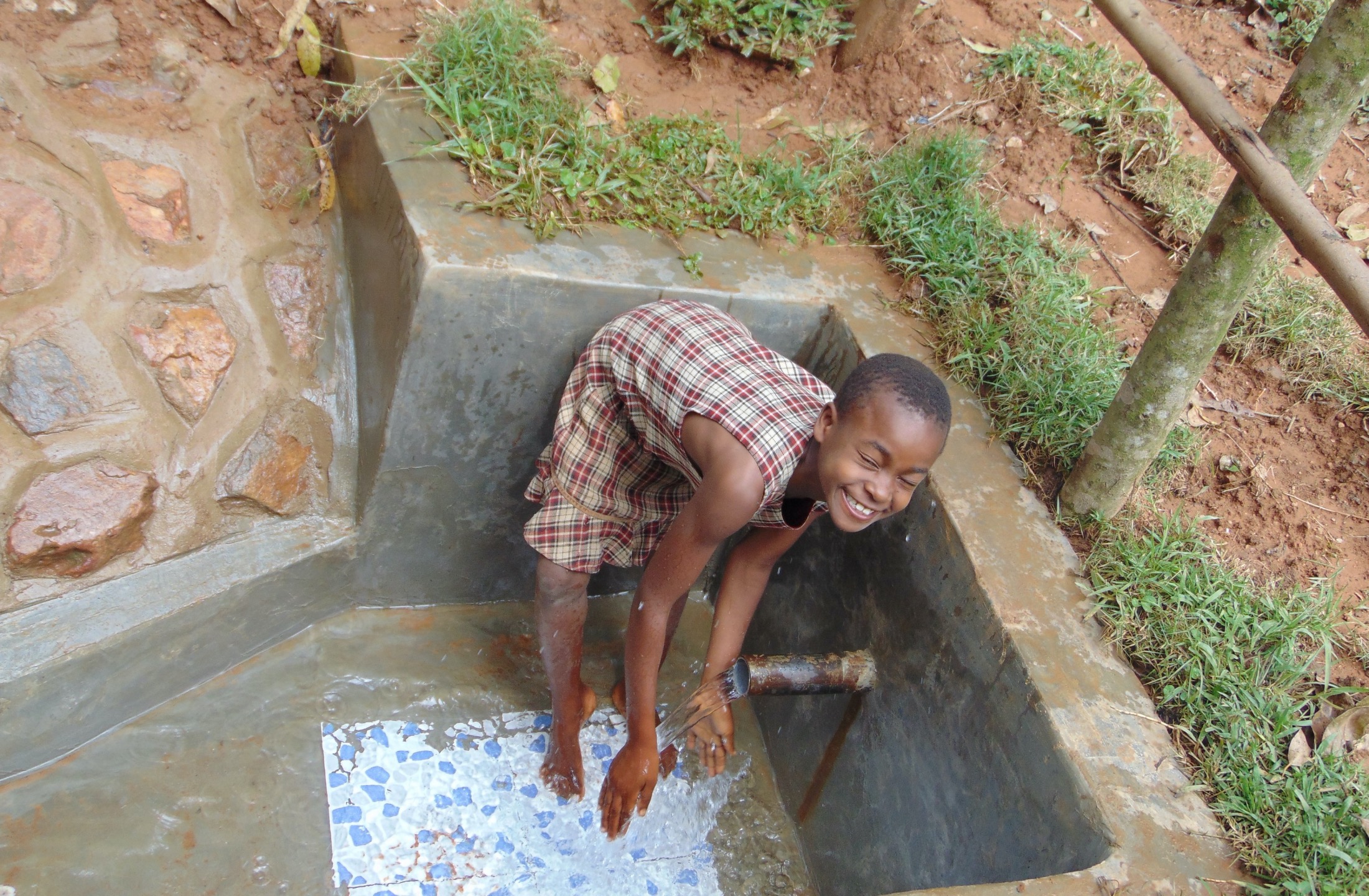 To read more about Shivembe Community and the Murumbi Spring project, click here.
Home
More Like This
---