The spread of COVID-19 in Kenya has brought new challenges to 70-year-old Wathi Muisyo.
"My family has been affected greatly by Coronavirus. Kenyan citizens were advised to stay at home due to the virus," she told us recently.
"All the market days were closed down; as a result, we are unable to sell our farm products. Financial income at this time is difficult, thus making the purchase of supplementary foodstuffs from the shops impossible. Fortunately, this year we have had bountiful harvests, so we have sufficient food to eat at home, thanks to the rains received. I am praying for this virus to end."
Wathi is a member of the Ukava wa Kithoni Self-Help Group that constructed a sand dam and well for their Kithoni community last year.
She used to worry about how to fetch water each day. Before the project, the nearest water source was the Kwa Makiti River located more than a mile from the village. Its water table is shallow and dries up as soon as the rains stop. She and other community members then had to walk to River Kikuo, which is nearly 3 miles from their village – a journey that took about an hour to walk each way.
Things are different now.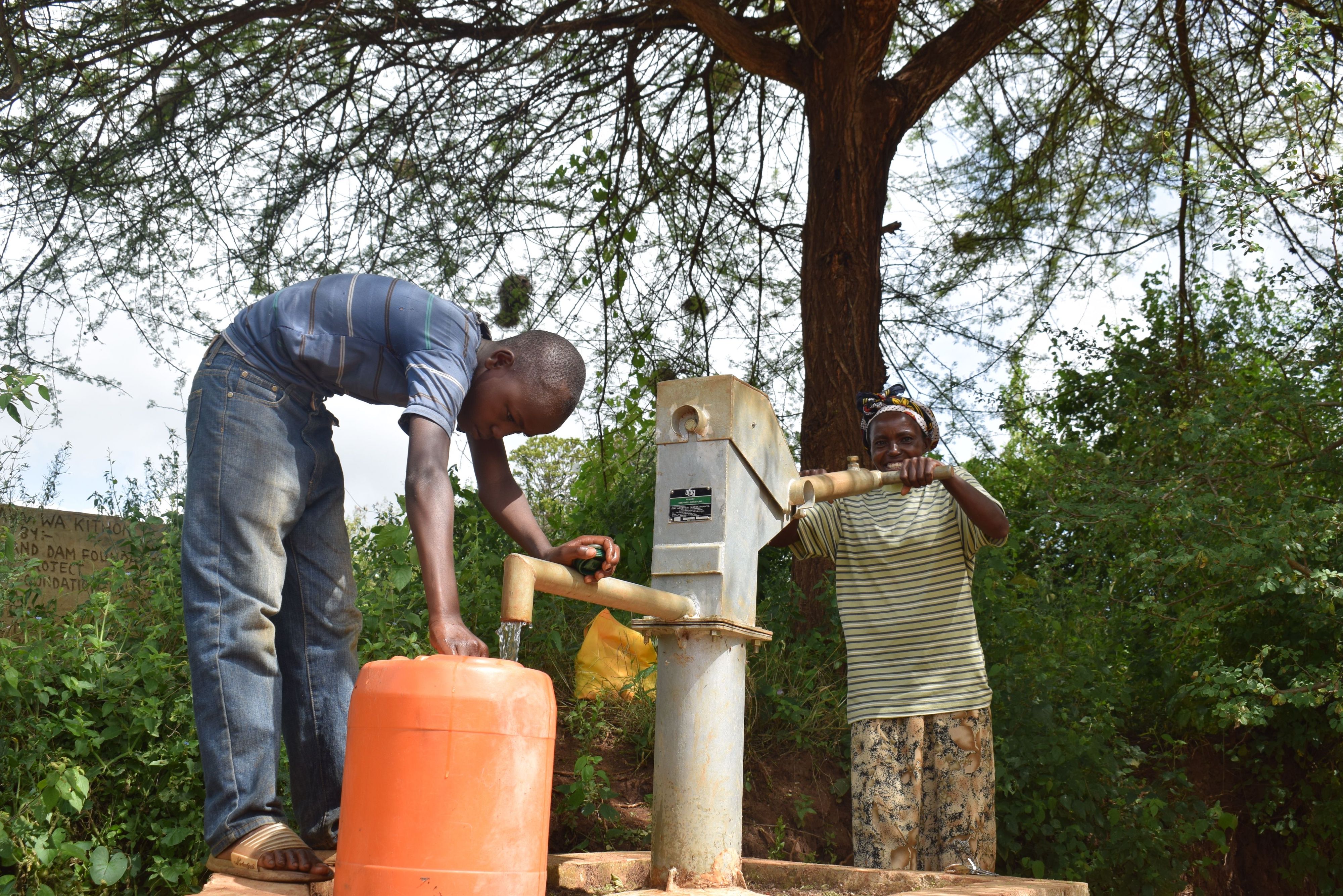 "Getting water from the water source has been easy for my family and me because we have a sand dam and shallow well project, which is a stone's throw away from my home. In just a few strokes, the jerrycans are full of water. The water is readily available for us, and we can fetch it at any time of the day," she told us.
Wathi and her family are feeling the effects of the COVID-19 pandemic. Her 5 grandchildren live with her right now because the schools are closed. Their parents (her children) work in Nairobi and are not allowed to leave the city due to travel restrictions.
"I am very worried about them as the situation there is very hard," Wathi said, referring to her children.
"They cannot go to work, and we are also unable to send food to them. The remittances that they would send to us are no longer possible because they are not working."
An unprecedented effort in Kenya has helped reduce the spread of COVID-19 in the country. But the restrictions on businesses and the national daily curfew are creating a series of new challenges for people in the country.
"Before this virus, we would work by selling farm products to buy any household necessities or packed foodstuffs such as rice, sugar, and salt. Now, we have to survive on the little that we have because we have no financial income to replenish them once they run out," she said.
"We have harvested a lot of food such as maize, cowpeas, pigeon peas, and beans from our farms because the previous rainy season was adequate, and we thank God for that. We have enough food on our farms to feed our families."
At a time of uncertainty, we continue to support communities so that they can at least count on one thing – access to a safe, reliable water source.
"Having a sand dam project at this time has been very beneficial, and we express our gratitude to The Water Project for their support. Getting water is easy and is not time-consuming at all," Wathi said.
Home
More Like This
---