---
Friday, June 12th, 2020
by Tom Murphy
---
This used to be the most reliable water source for the 185 people living near #26 Old Town Road in Lungi, Sierra Leone: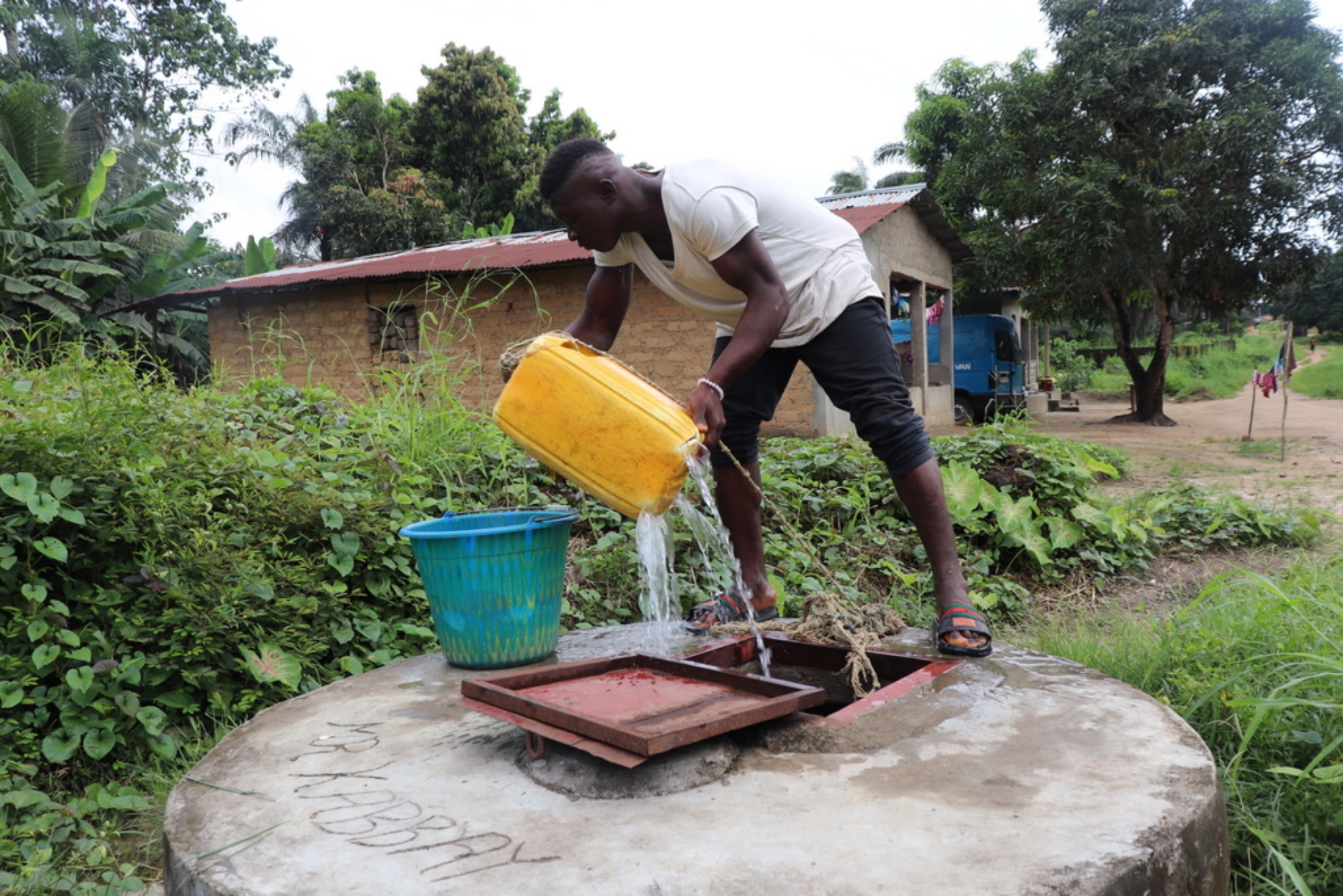 Another well in the community was the secondary source, but it runs dry for 3 months out of the year. That meant that for people to get water each day, they had to manually haul a large bucket filled with water just to fill the few containers they carried from their homes.
This daily task was an enormous burden for Alhaji Kamara. His mother is sick and blind, and fetching water from the deep well is not possible for her. So Mr. Kamara must do it for her – a task made difficult by the physical labor needed to pull water out of the well.
"I am now a single, divorced man in my 50's and I have to take care of my sick mother. There is nothing I can do to help her, except for the water I make sure she has every single morning," he shared.
"I make sure that she has all that she needs every morning before I head out of the house. I can never go very far from home because I am the only person she has in the world to help her. Throughout the day, the one thing she is always in need of is water."
To make matters worse, the water from the open community well is not safe for drinking. The container is handled by dozens of people each day and collects dirt and other contaminants each time. Because the water source is open, the water is directly exposed to pollutants. The potential for contracting a waterborne disease from this source was a real and daily threat to Mr. Kamara's mother.
Mr. Kamara immediately joined the water user committee when we scheduled the construction of a new well for this community. He is a descendant of the late section chief, so he is one of the leaders in this community. We held a hygiene and sanitation training before construction started, and Mr. Kamara was an active participant.
"As a senior member of the community, it is my responsibility to make sure that I attend all of the training sessions. I am very grateful and honored to have participated because I have learned a lot of new things that I am going to implement at my home," he said.
But it was the construction of the new well that had the most significant impact on Mr. Kamara's life.
"Having a clean and safe source of water in front of my house is going to do wonders for me, for the simplest reason – my mother. Words can not begin to express what I am feeling in my heart for the people that made all of this possible," he said.
Fetching water is now easy for Mr. Kamara. He spends less time and can get more water with each trip. That means fewer visits to get water each day. And it also means that he and his mother are consuming safe water every time they drink from the well.
The water from this well also benefits the community. The water user committee will collect fees from people when they fetch water at the new well, explained Mr. Kamara. This money is then set aside to pay for repairs when any issues arise. Any excess cash will support community projects, such as improvements for the local mosque, he said.
"There are also people in the community that greatly need financial help, so we are going to set up a fund to help some of the old people that cannot afford to buy food during the month of Ramadan," Mr. Kamara added.
Home
More Like This
---