"Staying indoors is not my thing…It seems I have a lot of time on my hands," said 31-year-old teacher Philip Omukiti plainly.
After several months of lockdowns, restrictions, curfews, and stress in his hometown of Mungakha, Kenya, it is easy to find empathy in Philip's statement as so many people around the world are facing similar challenges.
The COVID-19 pandemic has changed or brought to a halt many familiar routines, not least of which is sending children to school. In Kenya, all primary and secondary schools have been closed since March, and they do not plan to reopen until at least January 2021.
Not all schools and homes in Kenya have the resources or ability to move classes online. Consequently, for many pupils and teachers alike, this pandemic period has been one of frustration and stagnation. Philip, who ordinarily works as a teacher, knows this story well.
Philip is a member of the water user committee for Asena Spring, which he depends on for all of his daily water needs. Our team recently visited Mungakha to conduct a COVID-19 prevention training and monitor their water point. Shortly after, we returned to check in on the community, offer a COVID-19 refresher training, and ask how the pandemic is affecting their lives.
It was during this most recent visit that Philip shared his story of how the coronavirus has impacted his life both personally and professionally.
Team member David Muthama met Philip outside his home to conduct the interview. Both David and Philip observed social distancing and other precautions throughout the visit to ensure their health and safety. Their questions and answers have been edited for clarity and length.
What is one thing that has changed in your community since the protection of Asena Spring?
"I am confident that I am taking safe, clean water unlike before when the spring was wide open, exposed to frogs and tadpoles. I am confident and happy I have a source of clean water I can depend on."
How has having a clean water point helped you through the pandemic so far?
"There is plenty of clean water, and now I am able to wash hands, wash utensils, and even sanitize my furniture and other touchable items I use every day, including – most importantly – our clothes."
Since the outbreak of COVID-19 in Kenya, has fetching water changed for you because of restrictions, new rules, or your concerns about the virus?
"I am a trained teacher by profession, and I would wake up and go to work, not having anything to do with water at the spring. But since the pandemic, schools closed, and I have been going to the spring to fetch water or do some cleaning. After the training by your team, I have observed that people are washing hands at the water point and doing social distancing, which I also do."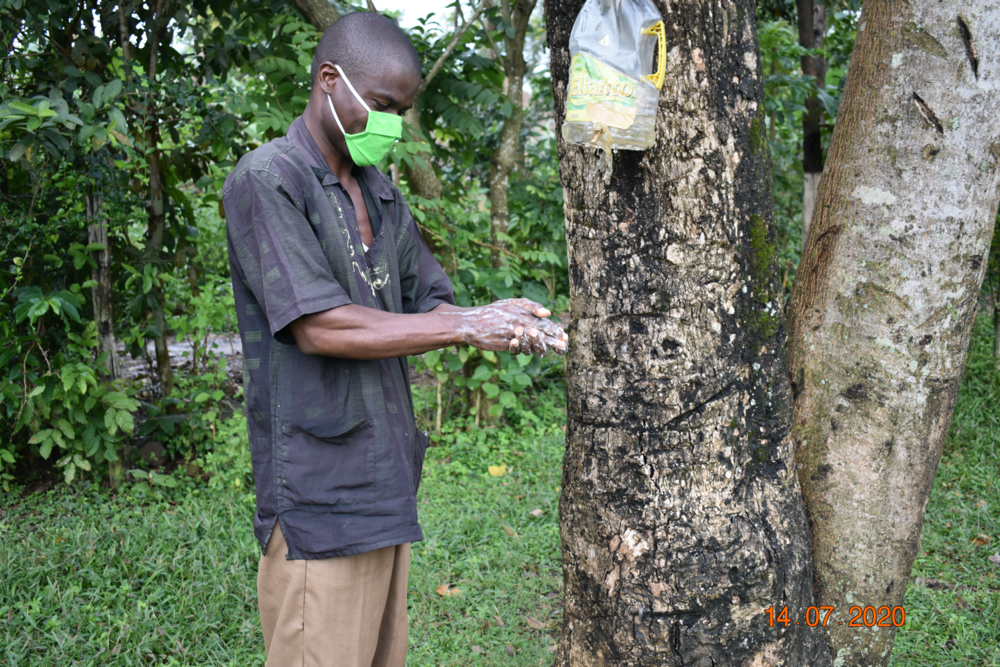 How has COVID-19 impacted your family?
"Staying indoors is not my thing. I can't go to work, there is no socialization, and people are not interacting as before. As my profession – I am a teacher – suggests, I am a guy who loves the social set-up. And for the children, life has become unbearable since they are used to school life."
"On the positive side, the pandemic has helped us as a family as most of us are now back at home since there are no jobs. Some of us had not met for a long time, but with the lockdown, we've had time to socialize and catch up on life."
What other challenges are you experiencing due to the COVID-19 pandemic?
"Traveling has become a challenge as well as having an insufficient food supply. Getting money has become a challenge since jobs like coaching are no longer available, which has brought a lot of idleness and wastage of time."
"I miss my teaching job, I miss the school, and I miss the students. It seems I have a lot of time on my hands."
What hygiene and sanitation steps have you and your community taken to stop the spread of the virus?
"We are adhering to social distancing, handwashing with soap for at least 20 seconds, wearing masks anytime we leave the home, and strictly avoiding public areas such as political forums and other gatherings like funerals."
Have any COVID-19-related restrictions been lifted since they began in Kenya?
"Yes."
What restriction were you most excited to see lifted already?
"Opening of the partial lockdown of counties and the extension of curfew hours."
What restriction are you still looking forward to being lifted?
"Meetings, because I can't send off our beloved ones in burials. And because for church, certain age groups have been barred from going, and these age groups are usually the most active in church activities."
When asked where he receives information about COVID-19, Philip listed the radio, television, newspaper, loudspeaker/megaphone announcements, word of mouth, and our team's sensitization training.
What has been the most valuable part of the COVID-19 sensitization training you received from our team?
"The (aforementioned preventative) measures in place and the steps you showed our illiterate members like the old men and women in our community. This included awareness of how the disease spreads and helping the elders understand what coronavirus is using their mother tongue."
This post is part of a new series by The Water Project meant to highlight the perspectives and experiences of the people we serve and how the COVID-19 pandemic is impacting them. We invite you to read more of their stories here.
Home
More Like This
---