Wednesday, April 20th, 2022
by Tom Murphy
Earlier this month, scientists and researchers gave notice that "rapid, deep, and immediate" cuts in carbon dioxide (CO2) emissions are needed to mitigate the effects of climate change. Their report for the UN's Intergovernmental Panel on Climate Change was a dire warning but was clear that there are actions to take to protect our planet.
As we celebrate Earth Day, the theme of investing in our planet is timely.
"For Earth Day 2022, we need to act (boldly), innovate (broadly), and implement (equitably). It's going to take all of us. All in. Businesses, governments, and citizens — everyone accounted for, and everyone accountable. A partnership for the planet," says the Earth Day website.
Water is one of the most-impacted areas of climate change. The Water Project sees this firsthand. Our teams are experiencing declining water tables in Sierra Leone, making hand-dug wells less reliable. And in the already semi-arid region of South-East Kenya, increasingly erratic rains are making water access more difficult for people who already travel long distances to get water each day.
Fortunately, we can adapt to the changing environments where we work and implement projects that integrate conservation.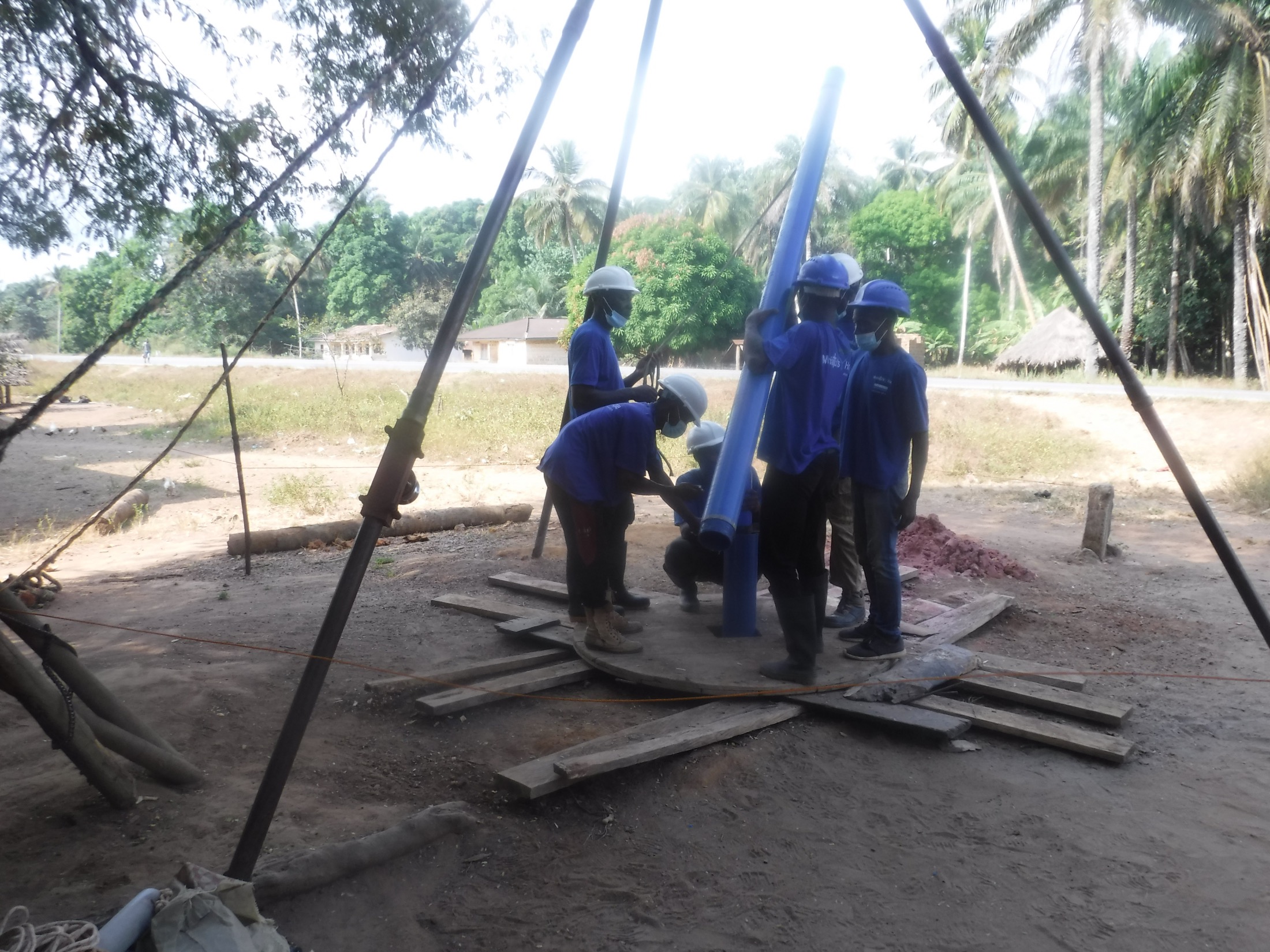 In Sierra Leone, we use a novel strategy to rehabilitate existing hand-dug wells. Our teams drill directly into the existing wells to convert them into deeper borehole wells. We can reach the water table and dig below it to ensure that the wells are reliable. And, rather than drill brand new wells, we work with existing ones so that people can continue to use their favored water point – but it is now more reliable.
Sand dams are an appropriate solution in Southeast Kenya, where people collect water by digging scoop holes in seasonal river beds to access water. The sand dams hold sand and dirt in the riverbed, allowing more water to remain. Adjacent wells enable people to access the water without digging scoop holes.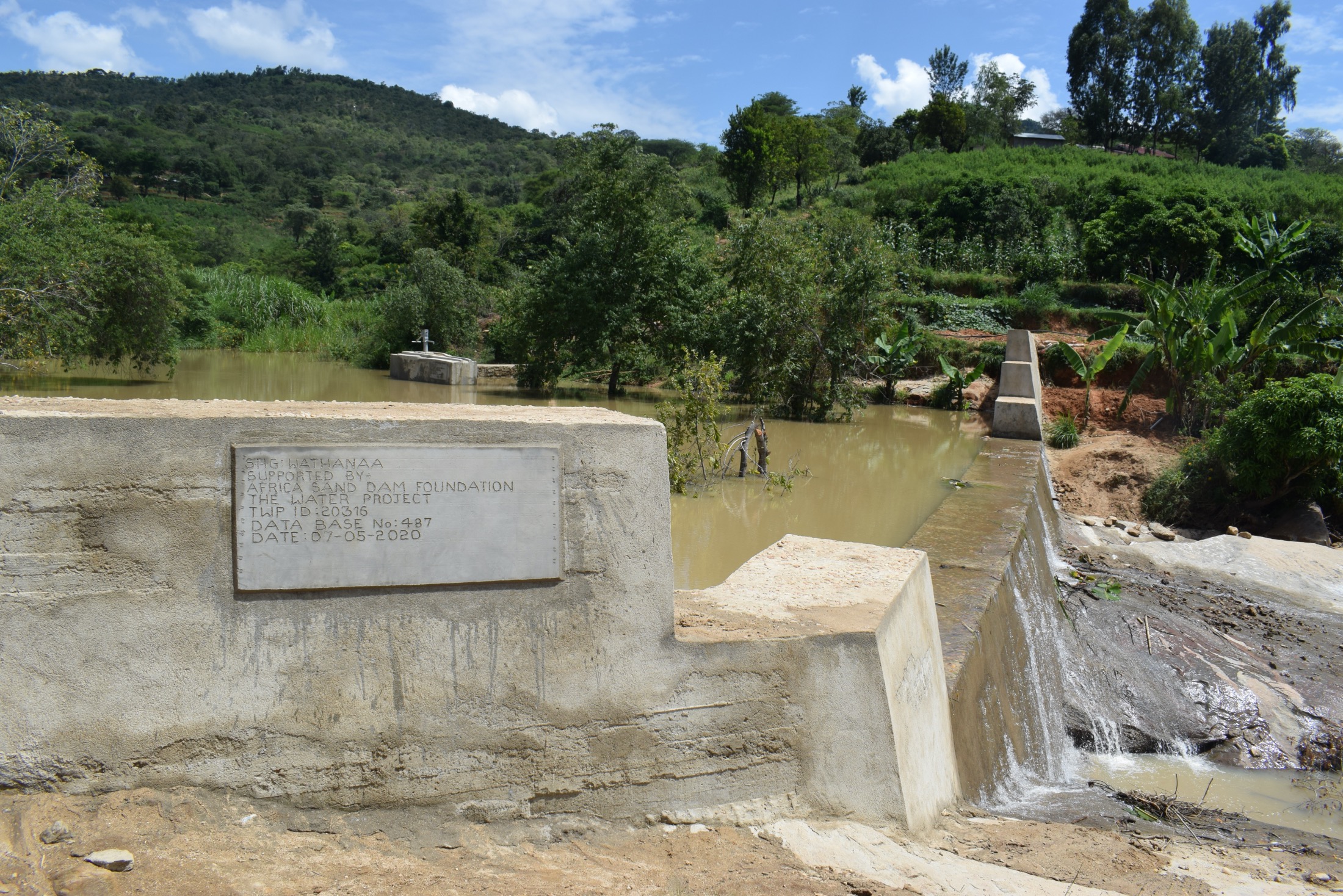 But it doesn't end there. The water held behind the dam filters into the river banks and helps rejuvenate the surrounding environment. Barren landscapes are transformed into abundant green spaces filled with plants and trees. And, because of the design of the dams, most of the water that runs through the river continues downstream. This means areas farther down continue to get the same water they have always received. We are beginning to see evidence that multiple successive dams adequately spaced in the same river channel can have an even more significant impact on the environment.
"There is plenty of water for farming practices to take place. We currently access clean and safe drinking water. Our livestock now gets water easily at shorter miles. Due to abundant water supply, we are engaged in environment conservation by planting more trees," explained Erick Mutiso, a resident of Mukuku Community in Southeast Kenya a year after his community installed a sand dam.
In Western Kenya, The Water Project protects natural springs that provide water throughout the year. This water solution works with the natural environment: the only intervention to make springs safer is building a spring box and adding a discharge pipe that makes it easier to collect water. The already-filtered water is safe for drinking and continues to discharge. Working with the natural environment ensures that the groundwater supply is not over-used.
Rainwater harvesting tanks at schools in Kenya operate similarly by harnessing seasonal rains on school buildings. The water is channeled off the roofs through gutters and pipes into large storage tanks. In Western Kenya, where rains are more abundant, this solution allows schools a more accessible point of access when digging a well is not appropriate. In Southeast Kenya, the 104,000-liter tanks hold water for many months after the rains end. This ensures that schools have access to water on the school grounds, rather than sending students to get water each day.
Principal Maara at Nzoila Secondary School in Kenya spoke about her plans for her school after the construction of a rainwater harvesting tank.
"We plan to engage in environment conservation by planting more trees in our compound," she said.
"Our agriculture students can now confidently embark on their projects without fearing their crops withering due to insufficient water supply. With time, we can also progress to expand the school."
At The Water Project, we know water is powerful. Without it, life on Earth would not exist (at least, not as we know it). Reliable water access has the power to transform schools and communities. With water within reach, communities that have lived in a cycle of poverty are empowered to create solutions for ecological problems in their own backyards.
On this Earth Day, we are reminded that water's impact goes beyond water for drinking, cooking, and washing. As our natural resources grow scarce, it's more important than ever to employ more efficient and sustainable methods of water conservation.
Home
More Like This
---