Stories and Community Profile
Western Kenya WaSH Program

Project Type: Borehole Well and Hand Pump
Project type subject to change prior to completion based on community needs and geographical and hydro-geological limitations.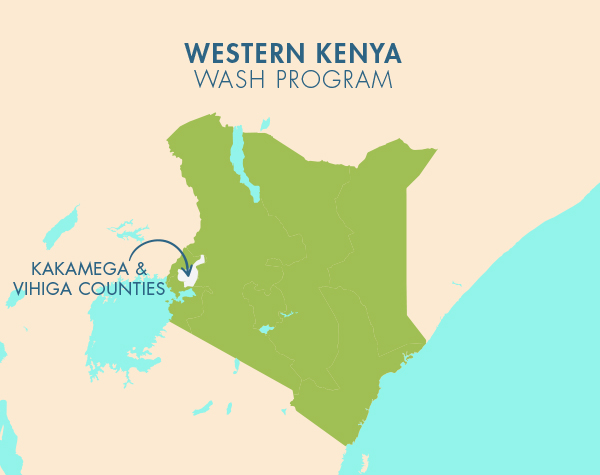 The Water Project's WaSH Program in Western Kenya's Kakemega and Vihiga Counties includes partnerships with self-organized leadership groups within schools, churches and communities.
Approximately 80% of people in these counties lack access to safe and reliable water.
Due to high occurrence of non-functioning hand pumps in this county, The Water Project's program is focused on well rehabilitation.  When water points cannot be rehabilitated, or no other viable source exists, new wells with hand-pumps are installed. Additional work targets self-help groups to implement protected springs and household sanitation solutions. The Water Project also works with nearby schools to implement rainwater catchment systems, hand-washing stations and latrines.  This approach means kids have access to safe water while at home – and also while at school.
Agreements are signed with communities which outline necessary contributions and current/future responsibilities associated with each water point.
Hygiene and Sanitation Training targets overall health, teaching the community about the importance of hand-washing and latrine use.
Ongoing mobile monitoring breaks the cycle of broken water systems and helps gauge the impact of every project.  Thanks to our monthly donors, we are able to monitor and repair water projects to ensure water continues to flow.