Any one of the 180 community members fetching water in Royeamp village (including children as young as four years old) needs to carry a large stick and sing loudly the whole way in an attempt to scare away poisonous snakes lurking in the tall grasses. Some families live an hour away from the swamp scoophole that serves as this community's only source of water, and yet most households must make multiple trips a day to meet their daily drinking, cooking, and cleaning needs.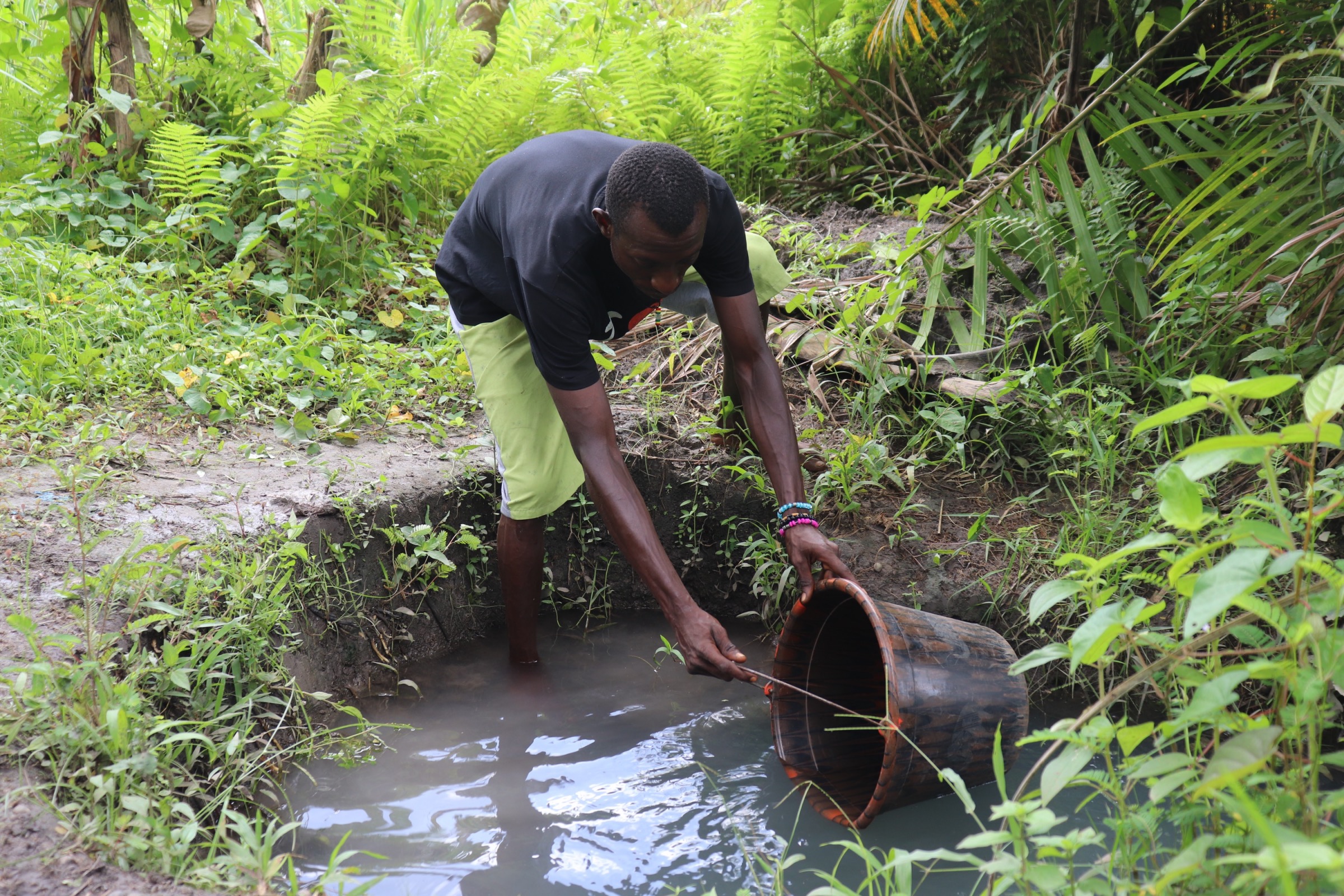 When we first visited the water source, a group of children helped us navigate there, and one of the boys drank from the swamp without hesitation, which was a painful sight to see. Worms, frogs, tadpoles, and fish inhabit the scoophole, and it is lined with grass, mud, and algae. It is surrounded by farmland, whose fertilizers seep into the water. Even though there is water throughout the year, the amount and quality both diminish in the dry season.
The water has a permanent milky white sheen from the clay in the soil; no amount of sieving will clear it. Even when the water is at its clearest, the community members leave their containers out for the dirt to settle to the bottom and any mistakenly scooped tadpoles to escape.
Unsurprisingly, drinking this water causes many health problems for the people in this community, including cholera, typhoid, dysentery, diarrhea, and amoeba. They also said drinking the fertilizer in the water has led to a steadily increasing rate of cancer within the area.
"We have had to deal with the loss of loved ones very often in our village," explained Abu Kanu, a 42-year-old farmer, charcoal burner, and the village's second headman. "Only a small amount of water comes to the village because of the distance. The old and young suffer greatly because they have to beg people to fetch a bucket of water for them."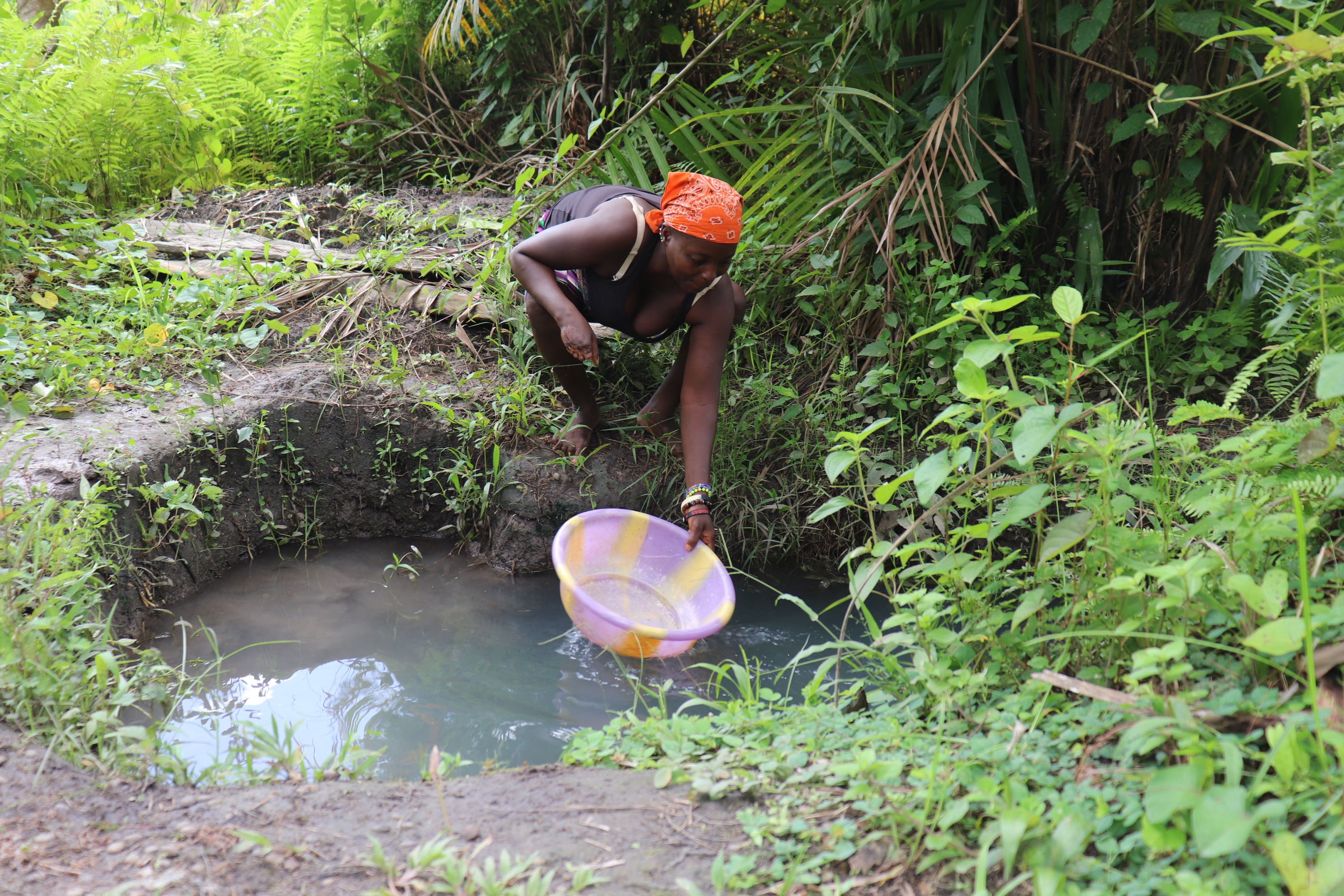 Abu told us organizations and politicians have made promises to the people of Royeamp to provide them with a source of clean water, but none of them have followed through. One group even asked for payment up-front to provide Royeamp with a water source. Because the villagers had no money, they sacrificed bags of rice. "To date, nothing has happened," Abu said.
"I am very disappointed in the fact that nobody has ever thought about helping us all these years," Abu said. "The first time this organization came to my village, I must admit, I was very upset. Instead of welcoming them, I told them to wait for the first headman because I have had enough of the lies."
Abu's 17-year-old son, Abdulai, no longer attends school since he has found a job driving a motorbike taxi. But if he'd had a choice, it wouldn't have happened that way.
"I dropped out of school a long time ago," Abdulai explained. "I needed to make money. I needed to help with the household affairs. Most of the children have been moved to other villages to avoid the long walk to the swamp for water."
What we can do:
New Well
Where we will be drilling is centrally located and will relieve many people of the long journey to fetch water and the challenge of accessing clean water.
Our team will drive over the LS200 mud rotary drill rig and set up camp for a couple of nights. Once the well is drilled to a sufficient water column, it will be cased, developed, and then tested. If these tests are positive, our mechanics will install a new India Mark II pump.
By drilling this borehole, Royeamp and the surrounding community will be provided with plenty of accessible, clean drinking water.
Training
There will be hygiene and sanitation training sessions offered for three days in a row.
Community members will learn how to make a hands-free handwashing station called the "tippy-tap." We will use these tippy taps for handwashing demonstrations and will also teach about other tools like dish racks and the importance of properly penning in animals. We will highlight the need to keep restrooms clean, among many other topics.
This training will also strengthen a water user committee that will manage and maintain this new well. They will enforce proper behavior and report to us whenever they need our help in solving a serious problem, like a pump breakdown.