Rubbish molders away in the swamp that serves as the primary water source for the 169 community members in Kirma.
The swamp sits at the bottom of a slope, so when it rains, runoff sloughs trash from the road at the top of the hill into the stream, whose water then dribbles down an improvised discharge pipe and into people's containers.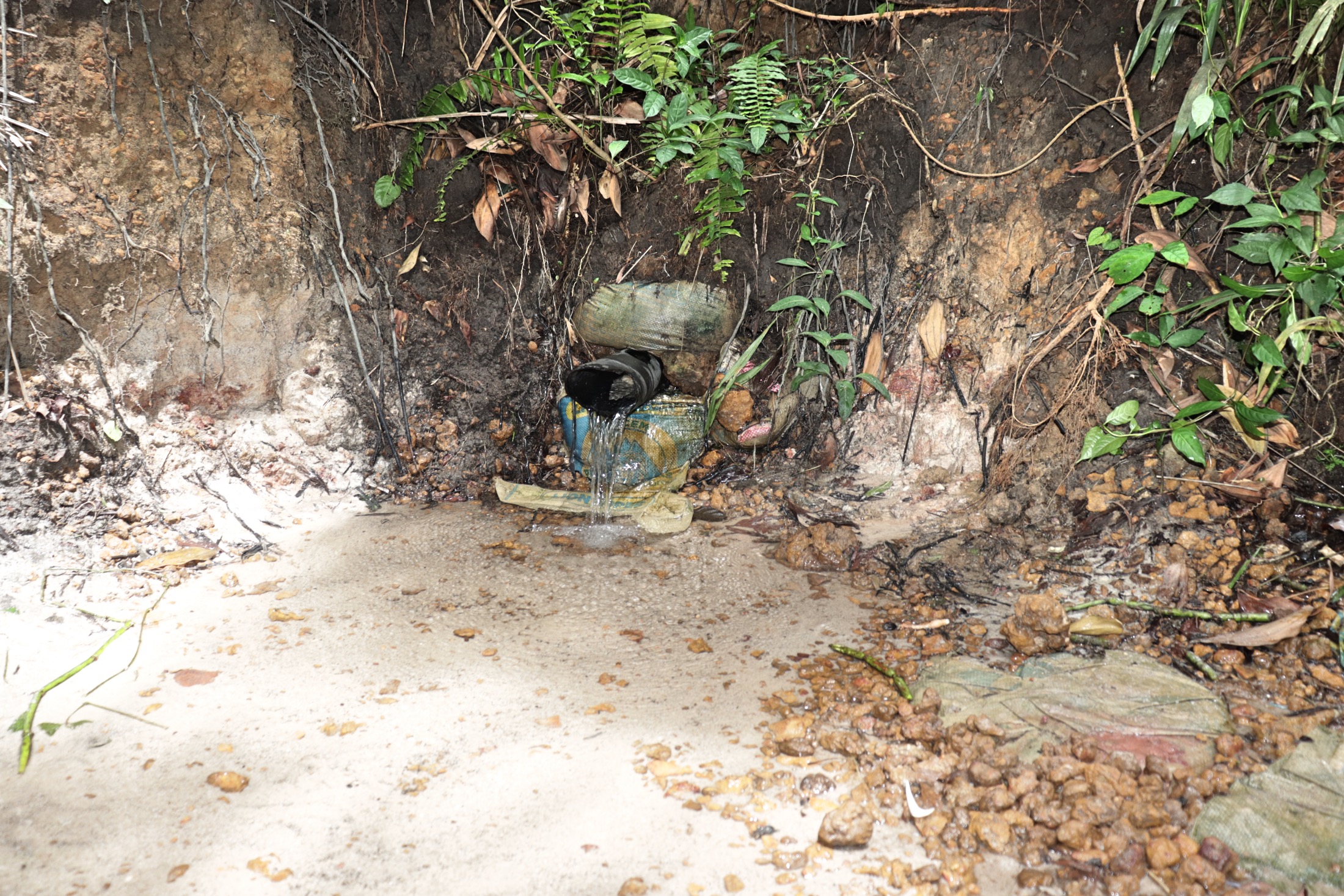 For some unlucky people, the trip to the swamp eats up an hour or more of their time because it is far away along a path that easily becomes muddy and slippery. This path also crosses a major highway full of impatient motorists. Accidents have hurt several people on their way to the stream in Kirma.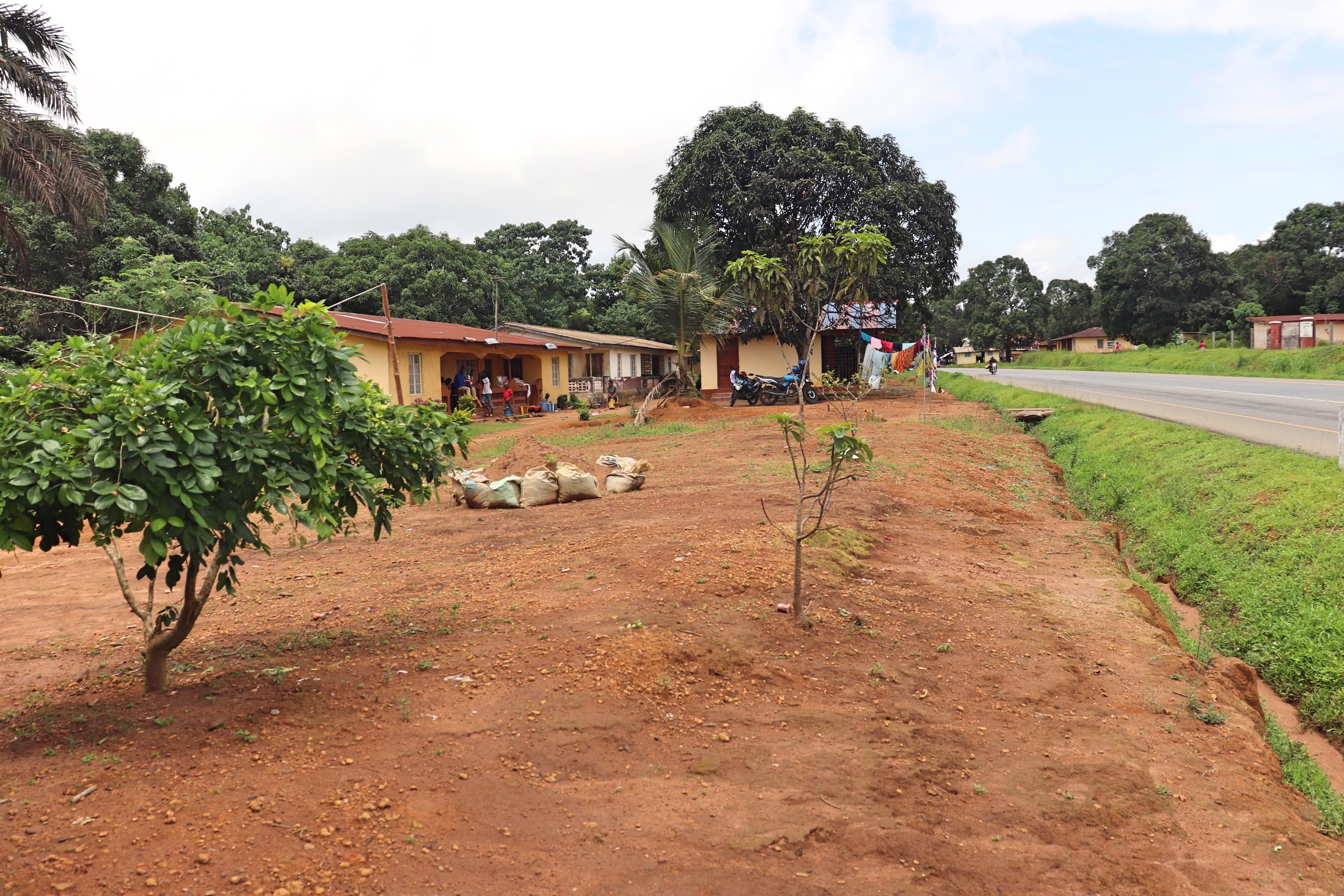 To avoid as many trips to the stream as they can, people collect rainwater during the rainy seasons. But they can't collect much without a dedicated collection system, and what they do collect is often contaminated one way or another.
People in Kirma must endure all of these struggles just to supply their households with inadequate water. Inadequate water complicates everyday things.
"I find it difficult to fetch water," said 60-year-old petty trader Isatu Conteh (shown collecting water below).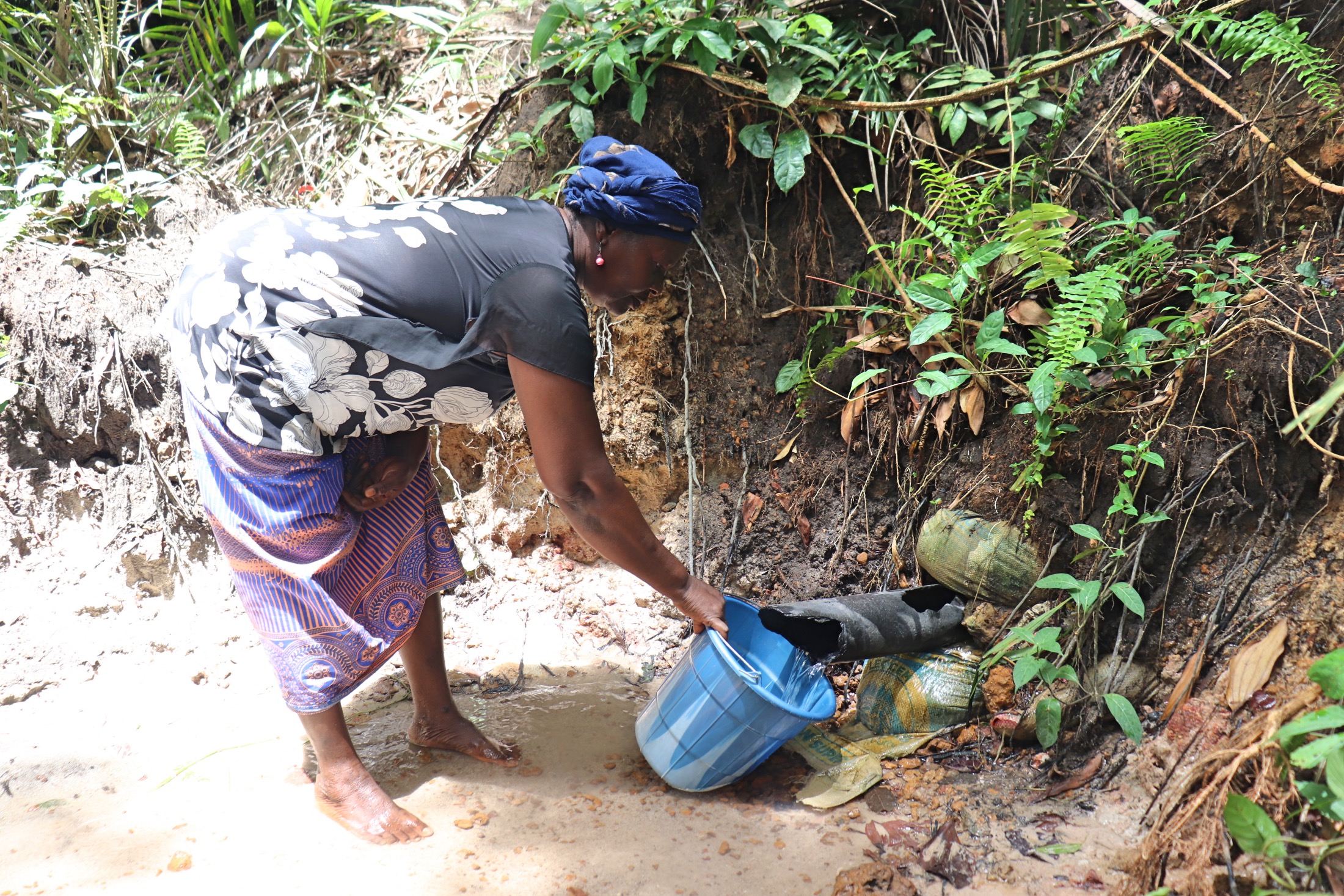 "The only water source in this community is swamp water. It is far from my house, and it is hard for me to go to the stream due to my age. So, if I need water, I must pay someone to fetch water for me. I have activities that I will not complete for a day. Also, I will not do some [things] on time, such as bathing, laundry, cooking, etc. To practice personal hygiene is not easy for me. But I will be very much happy if this project digs a new water well in my community."
The water shortage and the swamp's unsafe water make people (especially young children under five years old) sick. There are constant cases of diarrhea, typhoid, and malaria in Kirma – all preventable with the right knowledge and practices.
With so many people desperate for water, it's easy to see why water access would become contentious.
15-year-old Ibrahim (shown collecting water below) has given up fetching water in the morning because everyone rushes to the stream at the same time. Community members added the discharge pipe in an effort to speed up the water collection process, but in the mornings and evenings when everyone needs water to get things done, there is no avoiding the lines and quarrels that ensue.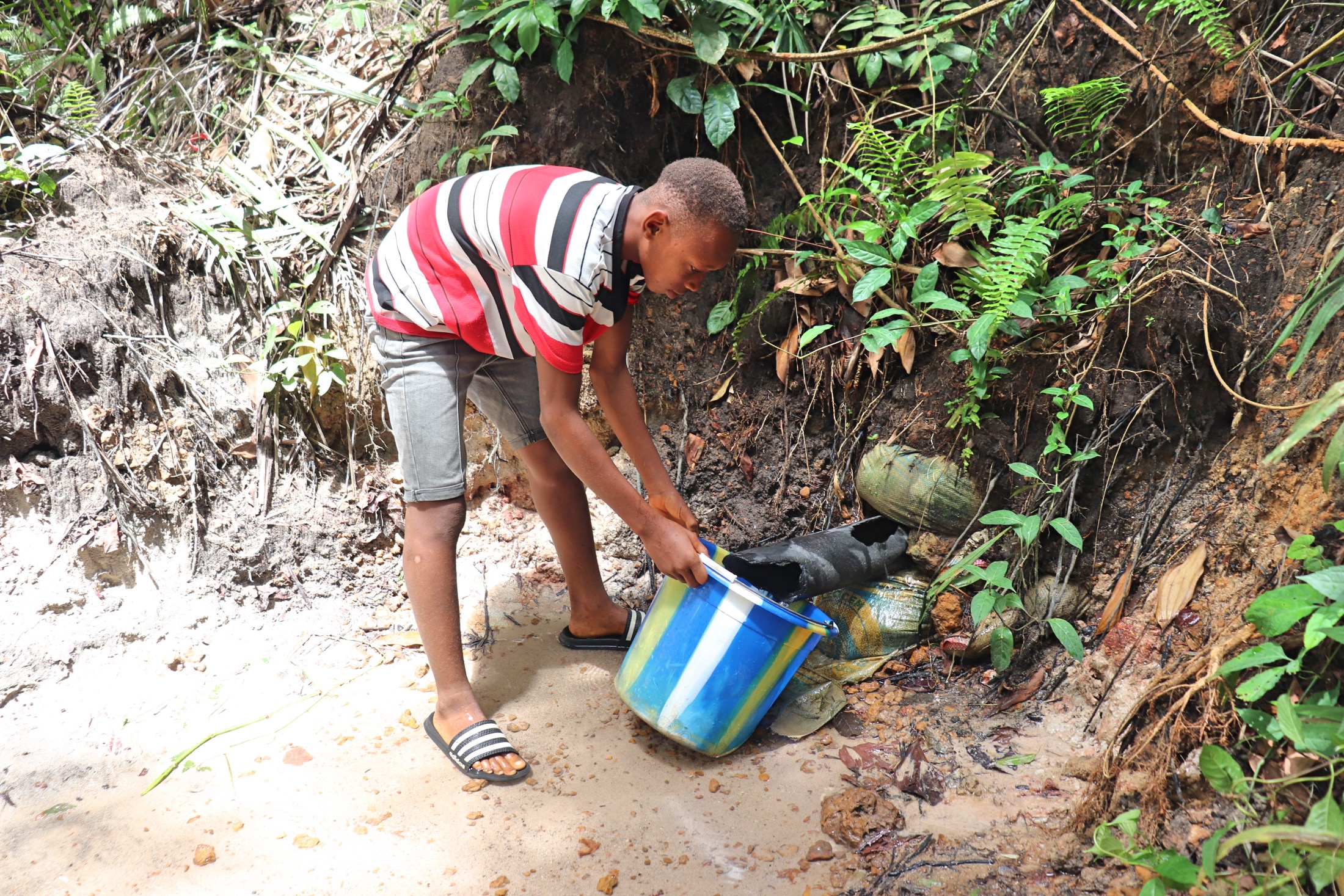 "There has mostly been tension at the stream in the morning," Ibrahim said. "Many people rush to fetch water in the morning. I [find] it very difficult to get a single bucket of water in the morning before going to school. The overcrowding at the stream creates tension among people. Everyone is in the hurry to fetch water in the morning. Sometimes the overcrowding would result in quarrels and fights."
"It is not easy to fetch water every day," Ibrahim said. "I am always worried in school because I think about the challenges that I [will] face fetching water."
Increased collection time has…been shown to negatively affect the educational success of students, who report being late to school, lack of morale and ability to focus and fatigue due to their water collection responsibilities – Source
A new source of water will open up so many doors for Kirma's community members.
What We Can Do:
New Well
Where we will be drilling is centrally located and will relieve many people of the long journey to fetch water and the challenge of accessing clean water.
Our team will drive over the LS200 mud rotary drill rig and set up camp for a couple of nights. Once the well is drilled to a sufficient water column, it will be cased, developed, and then tested. If these tests are positive, our mechanics will install a new India Mark II pump.
By drilling this borehole, Kirma and the surrounding community will be provided with plenty of accessible, clean drinking water.
Training
There will be hygiene and sanitation training sessions offered for three days in a row.
Community members will learn how to make a hands-free handwashing station called the "tippy-tap." We will use these tippy taps for handwashing demonstrations and will also teach about other tools like dish racks and the importance of properly penning in animals. We will highlight the need to keep restrooms clean, among many other topics.
This training will also strengthen a water user committee that will manage and maintain this new well. They will enforce proper behavior and report to us whenever they need our help in solving a serious problem, like a pump breakdown.