If the sun is up and she's not in school, 12-year-old Sinnah T. is probably fetching water for her family.
She walks to the neighboring community's borehole well for the first time in the early morning before she goes to school. If she can, she makes two trips so that her mother will have enough water to do household tasks throughout the day. But the second trip will always make Sinnah late for school because there aren't enough water sources around Koboya. 195 people live in Sinnah's section alone, and the nearest well is shared by several surrounding communities.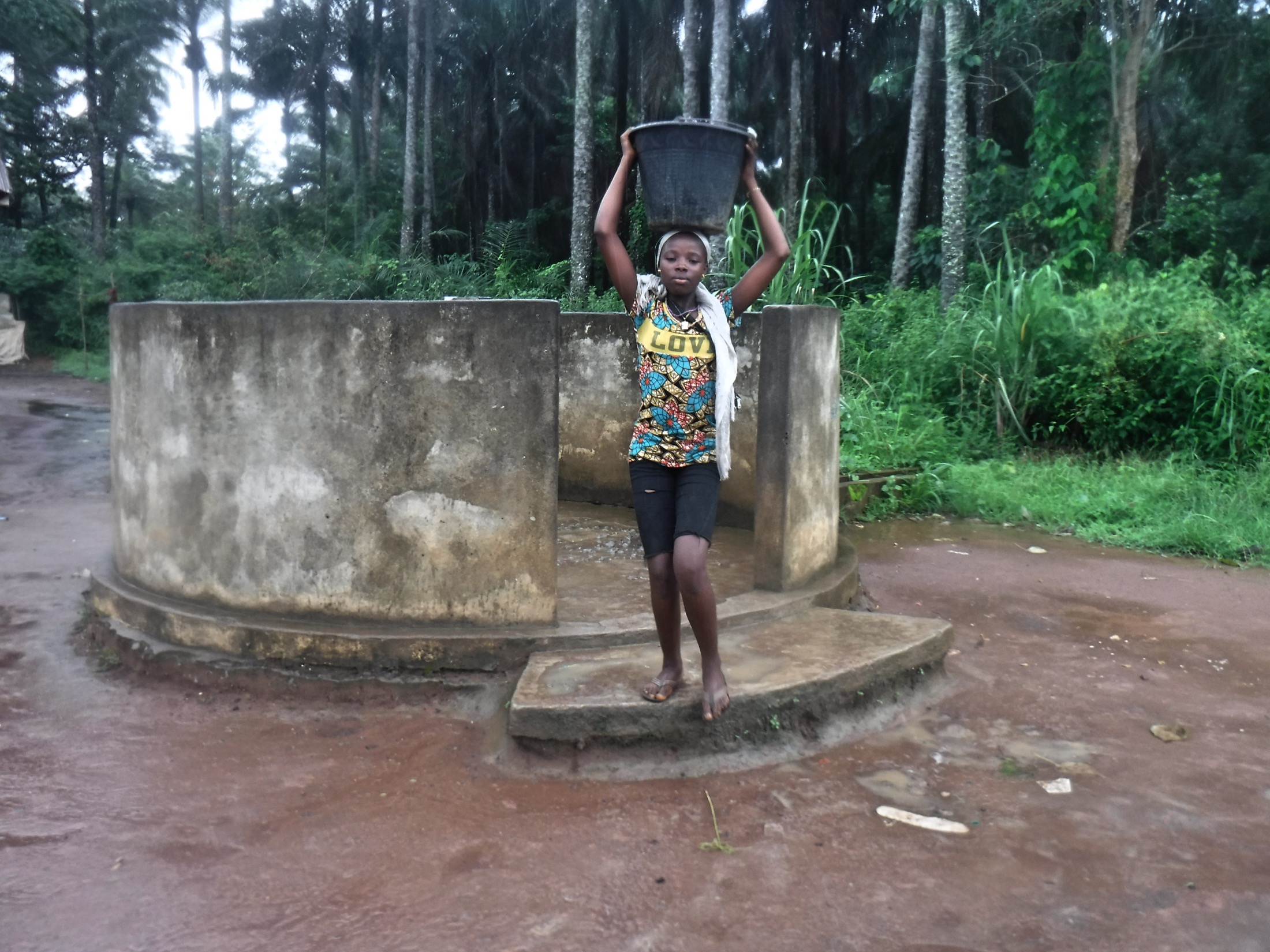 "The pump always gets overcrowded, so when I want to fetch water I must wait for my turn," Sinnah (shown above) said. "The long waiting time delays me the most. I wait for almost an hour. Sometimes, I would spend more time than that, especially when the people at the water point are many. Truly, I am among the latecomers in my school. My parents have pleaded to the teachers on my behalf just to allow me in school. This is really affecting my performance, especially during the exams."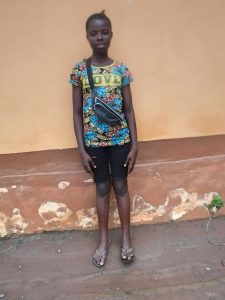 Then, as soon as school is done for the day, Sinnah walks home, fetches a container, and heads back out.
"After school, I must continue to fetch water from the well," she said. "I am really afraid to cross the highway. I have no choice but to do this daily. The last time, I was almost hit by a motorbike. I was busy talking to my friend on our way from the well. Immediately [as] I wanted to cross, the bike came with high speed. It almost hit me, but God intervened miraculously. I should have lost my life."
"This is really heart-rending," said our field officer, Julius. "A lot of people have lost their lives whilst crossing the highway to the main source. Some of the water users have sustained severe injuries from accidents. This has affected their health to the point that, some of them were even admitted [to] the hospital."
"Some of the drivers do not observe road signs or safety protocols," Julius continued. "The mortality rate of children whilst crossing the road is very much alarming. That is why most parents refrain from sending their children to fetch water."
Sinnah continues going back and forth to the water point until sunset. Even then, she must make one last trip so she'll have water to wash her school uniform for the next day.
"Most times, when a lot of people would be at the main source, I would rather go in search of water in other places for me to launder my school uniform," she explained. "This is really a burden. This situation makes my uniform not to get dry. I only have one uniform, and it must be laundered every day because it gets dirty due to the distance I walk to school. I have no one to help me with this work. That is why I will be very happy if this community would have [a] well."
Sinnah's tale of using every spare moment to run to the water point and wait in line is not unique, even in her own community.
"The only water source which I fetch water from is very demanding," said 32-year-old farmer Marion Samura (shown below carrying water).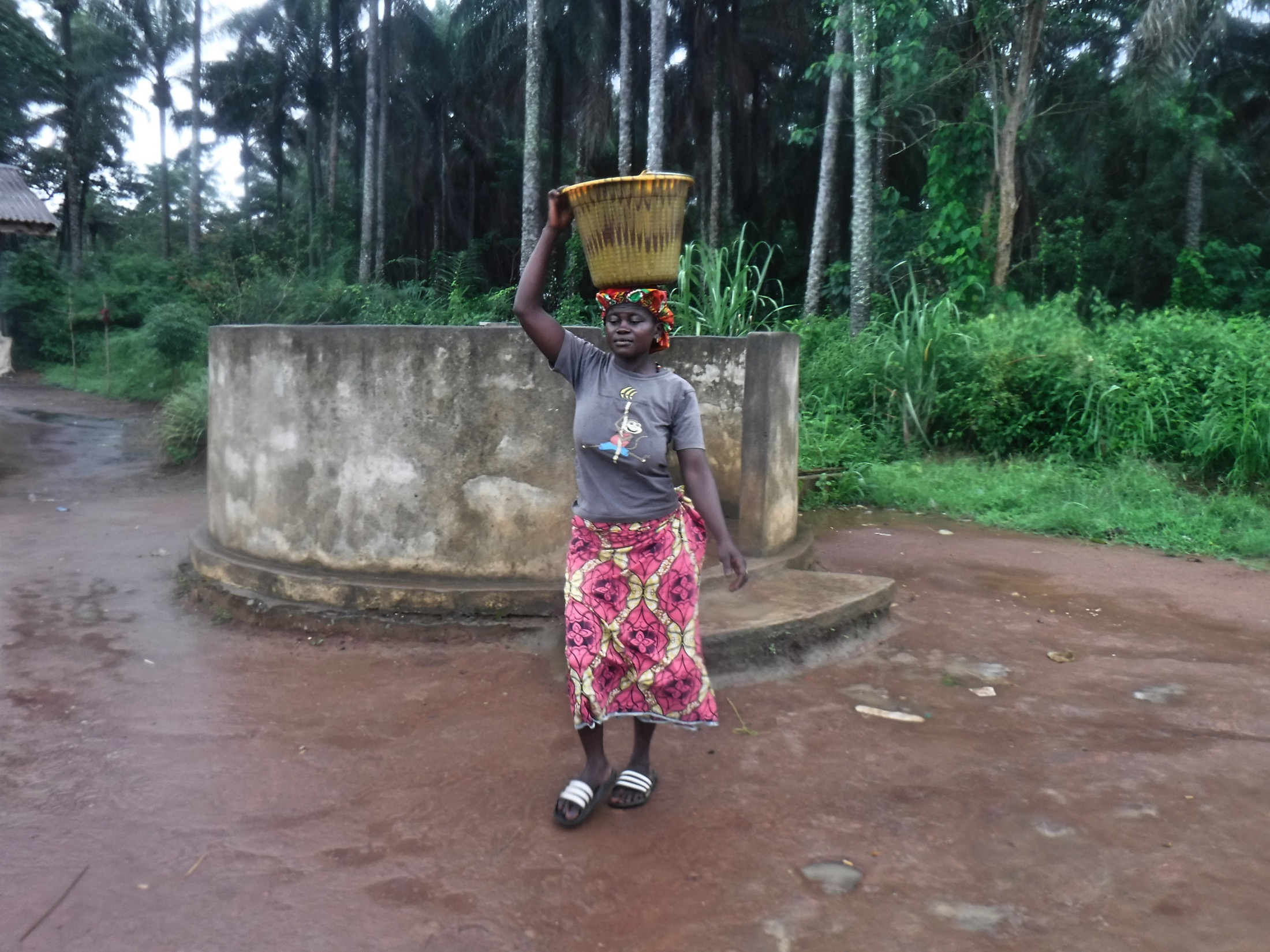 "Many people from other locations also fetch water from this well," Marion continued. "Most of the time, they bring many containers in their vehicles and motorbikes to fetch water. This always makes the well overcrowded, and it is very difficult for me to easily fetch water. I spend a long time at the well waiting to fetch water. This is really affecting me because I must prepare food in the morning hours before going to the farm. The long waiting time at the well delays me from doing the household chores."
Because people from several surrounding communities come here to fetch water, and some fill multiple containers, they take a long time.
"This normally deprives the indigene in the community from accessing the water point," said Julius. "By the time they finish [filling] their water containers, the other water users would have limited time to fetch. Since the well is regulated, the pump caretaker would close the well at the time [community members] are desperately in need of it. This situation often leaves people with partially filled containers [unless] they wait [for] when they reopen the pump again."
"The proposed project would bring a solution to the people of Koboya community," Julius concluded. "They would no longer walk a far distance to fetch water from other sources. Having a water point that is closer to them would greatly reduce all the water constraints they used to face. I believe this would bring a positive turnaround in the lives of the people. The number of accident cases along the highway would be greatly reduced because community members [would] not need to cross the road. They would be able to fetch water at their doorstep."
What We Can Do:
New Well
Where we will be drilling is centrally located and will relieve many people of the long journey to fetch water and the challenge of accessing clean water.
Our team will drive over the LS200 mud rotary drill rig and set up camp for a couple of nights. Once the well is drilled to a sufficient water column, it will be cased, developed, and then tested. If these tests are positive, our mechanics will install a new India Mark II pump.
By drilling this borehole, the surrounding community will be provided with plenty of accessible, clean drinking water.
Training
There will be hygiene and sanitation training sessions offered for three days in a row.
Community members will learn how to make a hands-free handwashing station called the "tippy-tap." We will use these tippy taps for handwashing demonstrations and will also teach about other tools like dish racks and the importance of properly penning in animals. We will highlight the need to keep restrooms clean, among many other topics.
This training will also strengthen a water user committee that will manage and maintain this new well. They will enforce proper behavior and report to us whenever they need our help in solving a serious problem, like a pump breakdown.