Saint Monica Primary School is located along the airport road in a village called Tardi. Entering the community along either side of the road, the first thing a passerby will get a glimpse of is the school building. It stands out due to the baked bricks that most people have only seen in movies. The school has stood its ground for the past 22 years. There is a large field in front of the school where the community holds football matches and sporting events.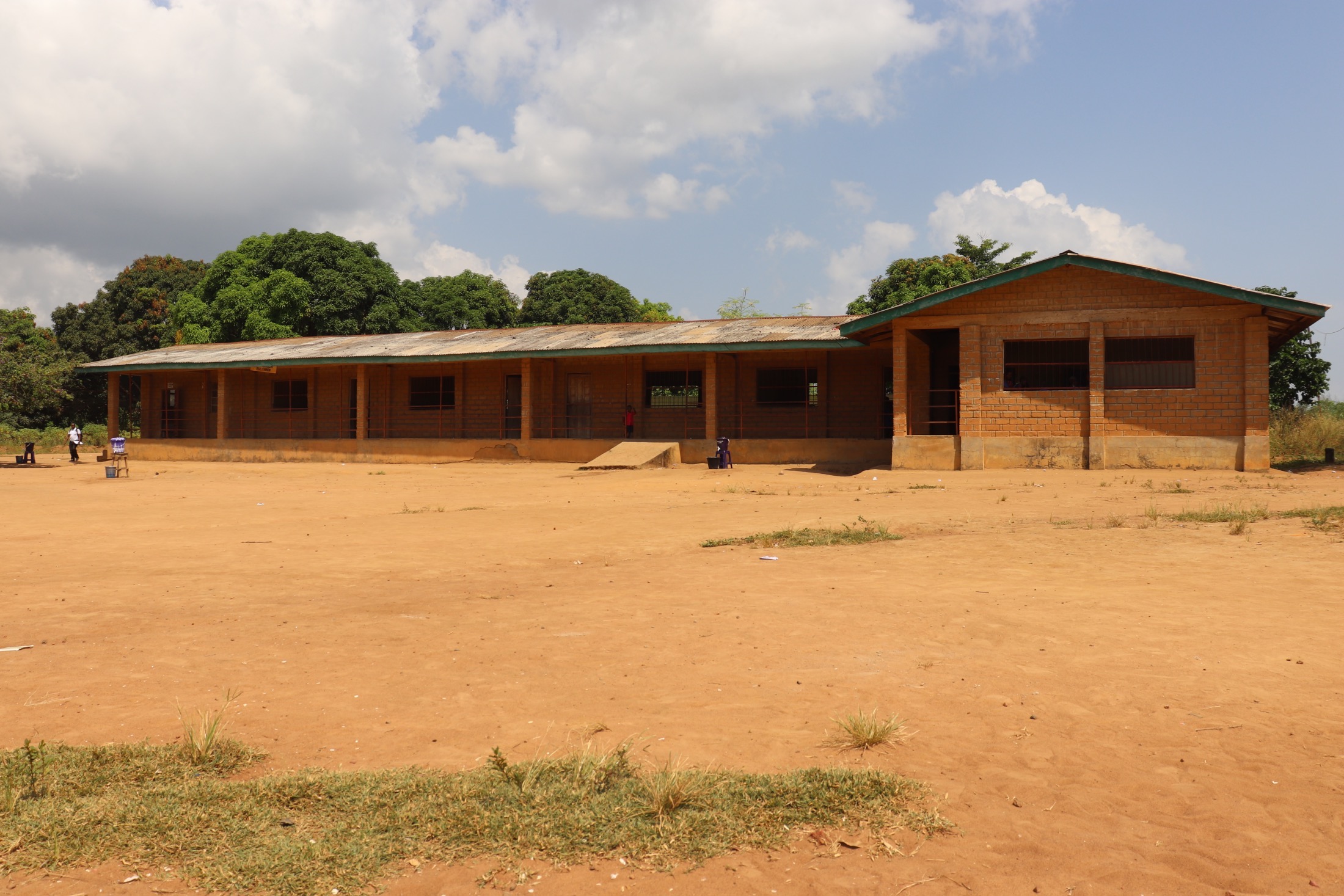 In Sierra Leone, development comes with chopping down trees, even when we should be planting more. Large mango trees hung on the side of the road a few years ago, but now not a stump is there to remind you. Seeing the dwindling water in the community, some residents are slowly replanting trees to reclaim the lost shade needed during hot and sunny days.
Most families in the community struggle to survive financially. Each member of the family has a specific role in putting food on the table, including children. Everyone participates in income-producing activities like making and selling a white paint primer [from oyster shells], oyster processing, farming, or petty trading.
There are 330 students, staff, and community members depending on the well at the school that needs rehab and frequently breaks down. It stands alone, not far from where the school field is located behind a high fence.
Students make their way to the well at least three times a day to fill containers they bring from home for drinking and to fill the latrine and handwashing stations for the school.  During the dry season, the well often runs dry. This forces the headmistress of the school to restrict access and those using it to resort to other water sources.  Outside of school hours, it is mostly under lock and key to prevent young men playing football in the field from damaging it and rendering it nonfunctional.
Here's what we're going to do about it:
Well Rehabilitation
The well marked for this overhaul is dry for a few months every year and needs major work to supply adequate, clean water to the community year-round. The pump will be removed, and a hand auger will be lowered inside and powered by a drill team. This hand auger will allow the team to drill several meters deeper to hit a sufficient water column to ensure the well supplies water throughout all seasons.
As the team drills, the casing will be installed, transforming the bottom of this hand-dug well into a borehole. PVC piping will connect this lower system directly to the pump, which we know will also improve water quality.
Once this plan is implemented, everyone within the community will have access to safe drinking water quality and quantity, even through the dry months.
Hygiene and Sanitation Training
There will be hygiene and sanitation training sessions offered for three days in a row.
After our visit, the hygiene and sanitation trainer decided it would be best to teach community members how to build a tippy tap (a hand-washing station built with a jerrycan, string, and sticks). They will use these tippy taps for handwashing demonstrations and teach other tools like dish racks and the importance of properly penning in animals.
This training will also strengthen the water user committee that manages and maintains this well. They enforce proper behavior and report to us whenever they need help solving a serious problem, like a pump breakdown.