This community is located in the Kaffu Bullom Chiefdom, Port Loko District. The landscape is flat with a swamp used for farming. Many green trees help reduce the heat from the sun. Houses are built with mud blocks and roofed with zinc sheets in a straight line along both sides of a rough dirt road.
Swamp farming of rice and vegetables for food and selling is common. The major livelihoods are petty trading, motorbike transportation, and fishing. Women engage in buying and selling fish, providing income and fish to eat for needed protein.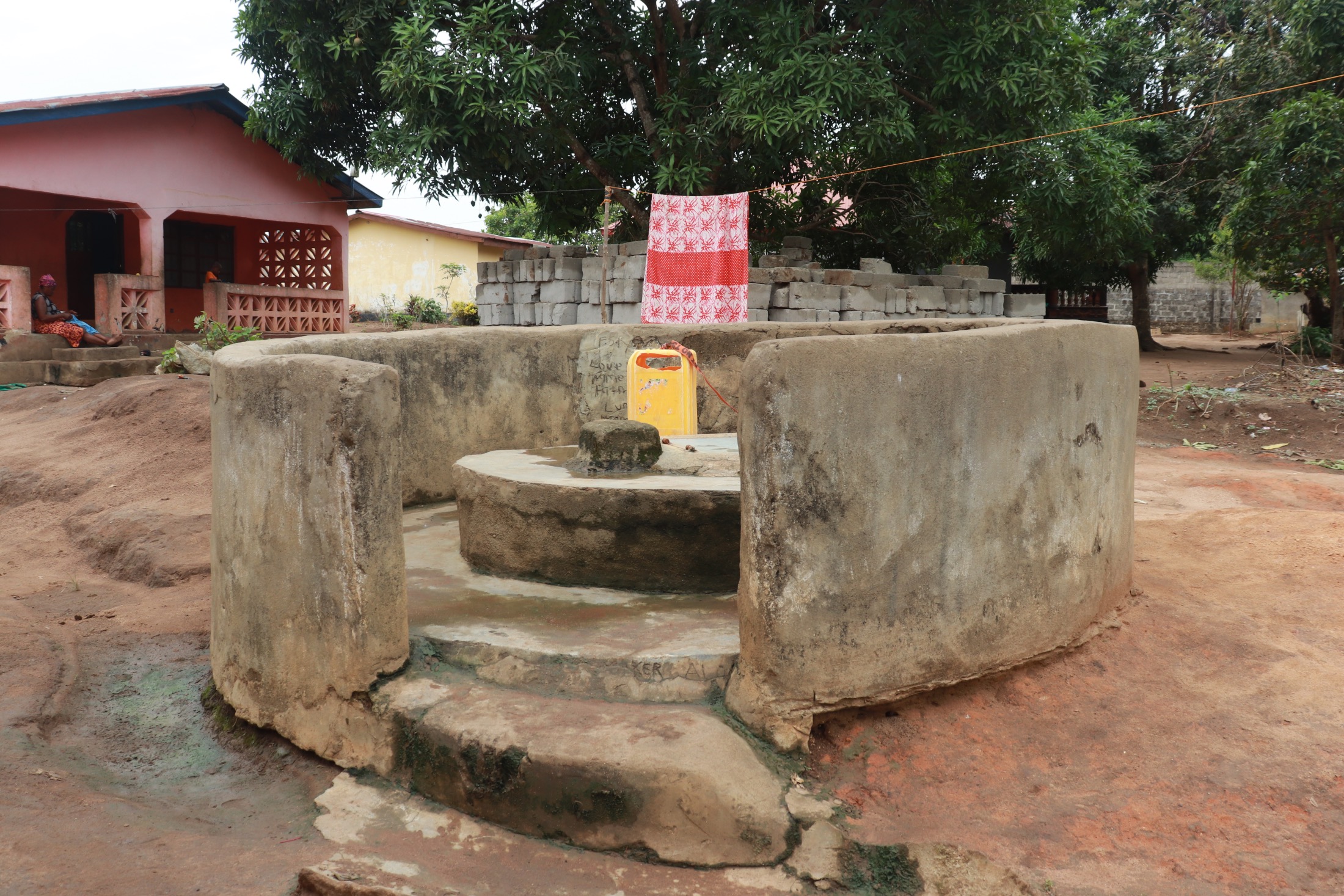 Most community members depend on the main water source, a protected hand-dug with a pump to access clean drinking water and water needed for household duties. But now, the water level is low, and the pump is faulty, so it does not have enough water to serve the population. People have no choice but to access the alternate source, a private hand-dug well without a pump with restricted use and labor-intensive.
Women and children are most affected by the water crisis, as they are often responsible for collecting water. This takes time away from work, school, and caring for their family. The lack of water locks women in a cycle of poverty and affects children's education. Every morning they must spend too much time fetching water before going to school and are delayed, missing important class time. As a result, it affects their academic performance in school exams and leads children to drop out of school.
"Early every morning, I wake up and search for water to prepare for school. Because of overcrowding at the well, I spend much time fetching water. This causes me always to be late for school. Most times, I even lose school lessons. This negatively affects my academic performance in the school exams. I cannot get enough water to bathe, drink, or clean the house toilet. This caused illness in me because it is not hygienic to live in a filthy environment. The crowd at the alternate source delays me, and this limits the time in my daily schedule for other activities," said Aminata, a 15-year-old girl.
Here's what we're going to do about it:
Well Rehabilitation
The well marked for this overhaul is dry for a few months every year and needs major work to supply adequate, clean water to the community year-round. Our team will remove the pump, and a hand auger will be lowered inside and powered by a drill team. This hand auger will allow the team to drill several meters deeper to hit a sufficient water column to ensure the well supplies water throughout all seasons.
As the team drills, the casing will be installed, transforming the bottom of this hand-dug well into a borehole. PVC piping will connect this lower system directly to the pump, which we know will also improve water quality.
Once this plan is implemented, everyone within the community will have access to safe drinking water in both quality and quantity, even through the dry months.
Hygiene and Sanitation Training
We will offer hygiene and sanitation training sessions for three days in a row.
After our visit, the hygiene and sanitation trainer decided it would be best to teach community members how to build a tippy tap (a hand-washing station built with a jerrycan, string, and sticks). They will use these tippy taps for handwashing demonstrations and teach other tools like dish racks and the importance of properly penning in animals.
This training will also strengthen the water user committee that manages and maintains this well. They enforce proper behavior and report to us whenever they need help solving a serious problem, like a pump breakdown.