Tombo Lol is mostly flat except for a few small forested hills and a swamped valley where farmers collect water to cultivate crops of rice and vegetables to sustain and provide income for their families. A rice mill sits in the center of the community to process their products after harvest. Finished products are transported and sold at the market in the capital city of Freetown, where farmers receive a much high price than selling locally. There are also those in the community involved in petty trading or who have small shops in their homes where others can easily buy needed items.
Community members are fully engaged and always busy with their daily activities. Water accessibility is a great challenge, especially when the main water source is broken down.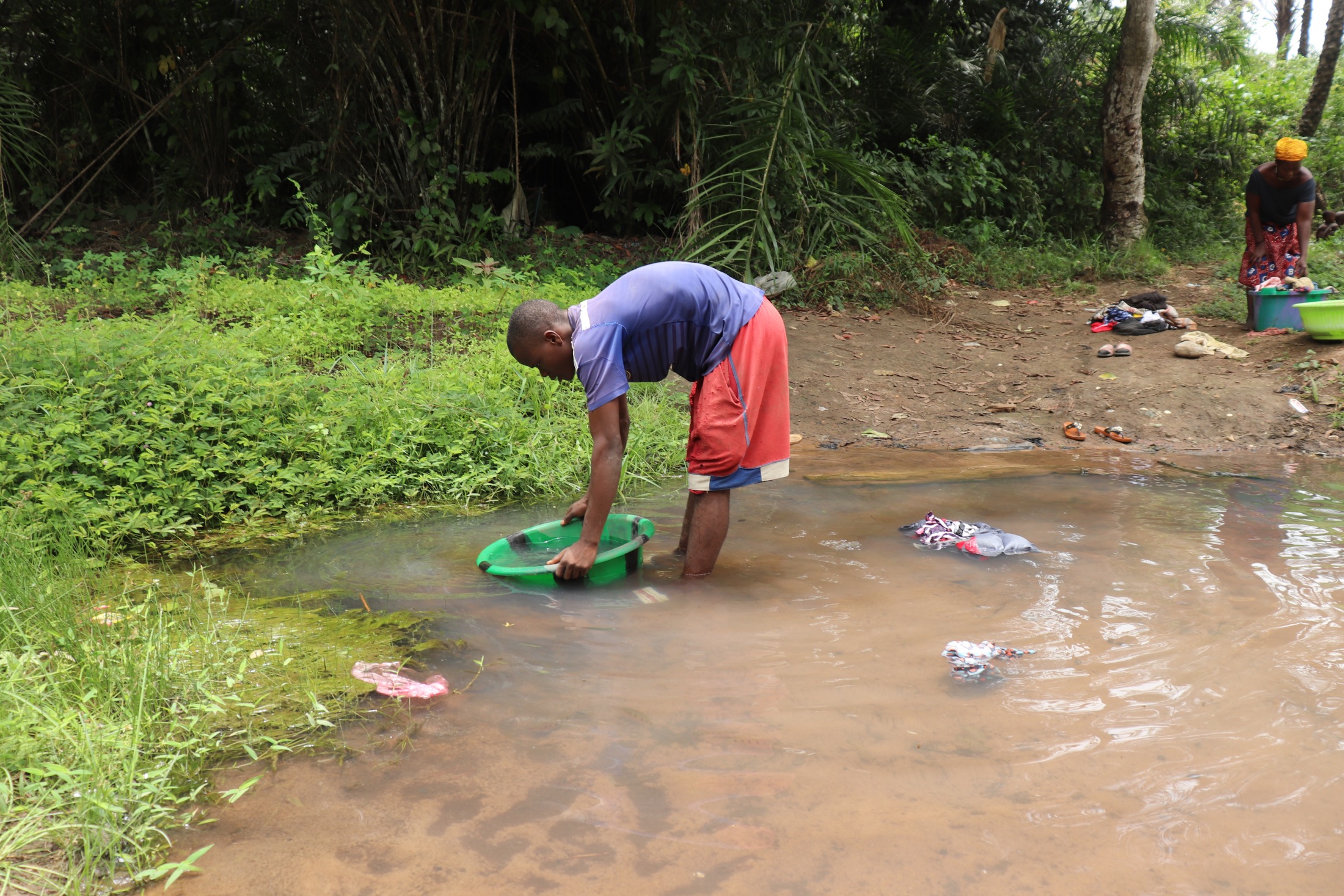 The first alternative water source is swamp water, but it is hard to reach because of the long-distance and difficult road conditions. The second alternate water source is a private water well, and therefore, community access is highly restricted. This is the reason why most people in this community prefer to fetch water from the swamp.
Women and children are the most vulnerable in this water crisis as they are tasked with the responsibility to fetch water for their households. Since the breakdown of the main water source, it has been a great challenge that takes much time and energy to collect water from alternative sources. Because of this, children are normally late for school, and women are late to do their daily activities.
"Since the main water source had a breakdown, I am challenged with access to quality drinking water in this community. The alternate source closer to us is a privately owned property and therefore, my access to the water facility is extremely limited. This is the reason why I prefer to get water from the swamp for my daily consumption. It is very risky to access and use the swamp water, but I am left with no option but to use it," said Alusine Sesay, a farmer.
The proposed water solution is to convert the main water source, a protected hand-dug well with a hand pump, to a borehole with a hand pump. This will help improve the water levels, so there is a sustainable, protected, clean water supply for the entire community for the whole year.
Here's what we're going to do about it:
Well Rehabilitation
The well marked for this overhaul is dry for a few months every year and needs major work to supply adequate, clean water to the community year round. The pump will be removed, and a hand auger will be lowered inside and powered by a drill team. This hand auger will allow the team to drill several meters deeper to hit a sufficient water column that will ensure the well supplies water throughout all seasons.
As the team drills, casing will be installed, transforming the bottom of this hand-dug well into a borehole. PVC piping will connect this lower system directly to the pump, a construction that we know will also improve the quality of water.
Once this plan is implemented, everyone within the community will have access to safe drinking water in both quality and quantity, even through the dry months.
Hygiene and Sanitation Training
There will be hygiene and sanitation training sessions offered for three days in a row.
After our visit, the hygiene and sanitation trainer decided it would be best to teach community members how to build a tippy tap (a hand-washing station built with a jerrycan, string, and sticks). They will use these tippy taps for handwashing demonstrations, and will also teach about other tools like dish racks and the importance of properly penning in animals.
These trainings will also strengthen the water user committee that manages and maintains this well. They enforce proper behavior and report to us whenever they need our help solving a serious problem, like a pump breakdown.