Petifu village has been experiencing a severe water crisis for decades.
The primary water source for the community's 83 people is a hand-dug well with a hand pump that was installed several years ago. But a few years ago, it began to run dry, especially during the dry season. They have now lost hope in reliably fetching water from it, even during the rainy season.
The alternative water sources are the local swamp or rainwater collection. The swamp is accessible, but it is also wide open to contamination, and the water is stagnant. Although it appears clean, there are a lot of contaminants in the water, making it unsafe for human consumption: excrement from dogs, sheep, and goats, and runoff from activities such as laundering and bathing. People have reported cases of diarrhea, typhoid fever, and skin rashes.
Community members believe evil spirits possess the swamp area, and avoidance due to fear limits their access. When children are instructed to collect water by their parents or required to bring water to school, it is not uncommon for them to end up spending the day with other family members or neighbors and not attend school, missing out on valuable learning time.
The water shortage in the community impacts everyone's daily schedule, especially during the dry season when the community's access to water is even more limited. People find it nearly impossible to complete daily activities.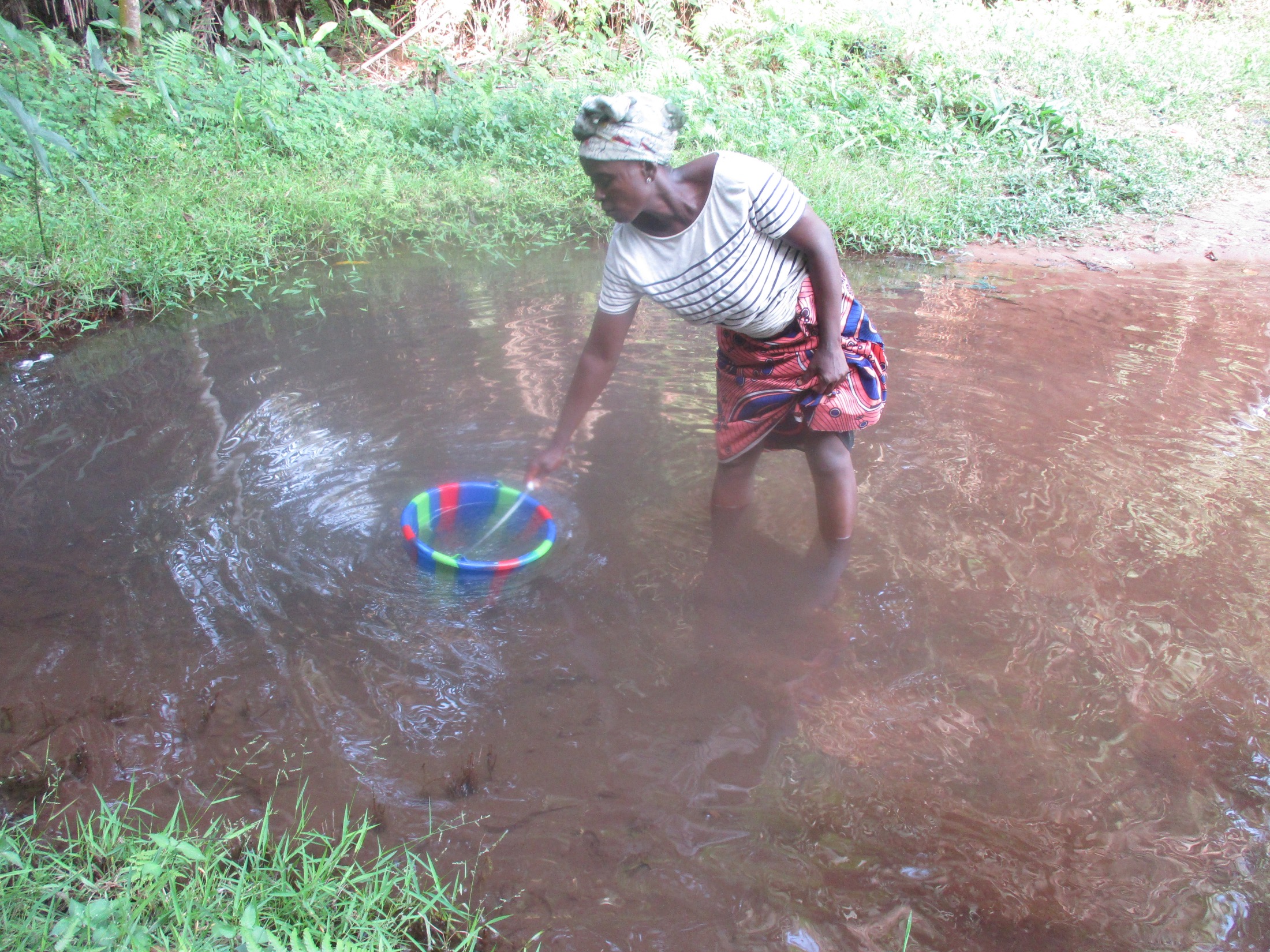 Farmer Kadiatu Kamara (in the photo above), 35, shared, "I take responsibility to fetch water for my family. I am a farmer, and I produce palm oil for my livelihood. The processing of palm oil needs enough water. Because of the water crisis in this village, the production of palm oil is getting low in both quantity and value. I wish there are water wells in this village to help reduce my struggle for water."
Adamsay B., 15, shown below collecting water from the swamp, shared how the water crisis in the community affects her. "Early in the morning when I wake up, I sweep the compound, and after that, I collect my rubber (bucket) to fetch water from the pump. When there is no water in the well or the water is coming from the pump slowly, I decide to go to the swamp to collect water and return home early to bathe, dress up, eat my food, and go to school."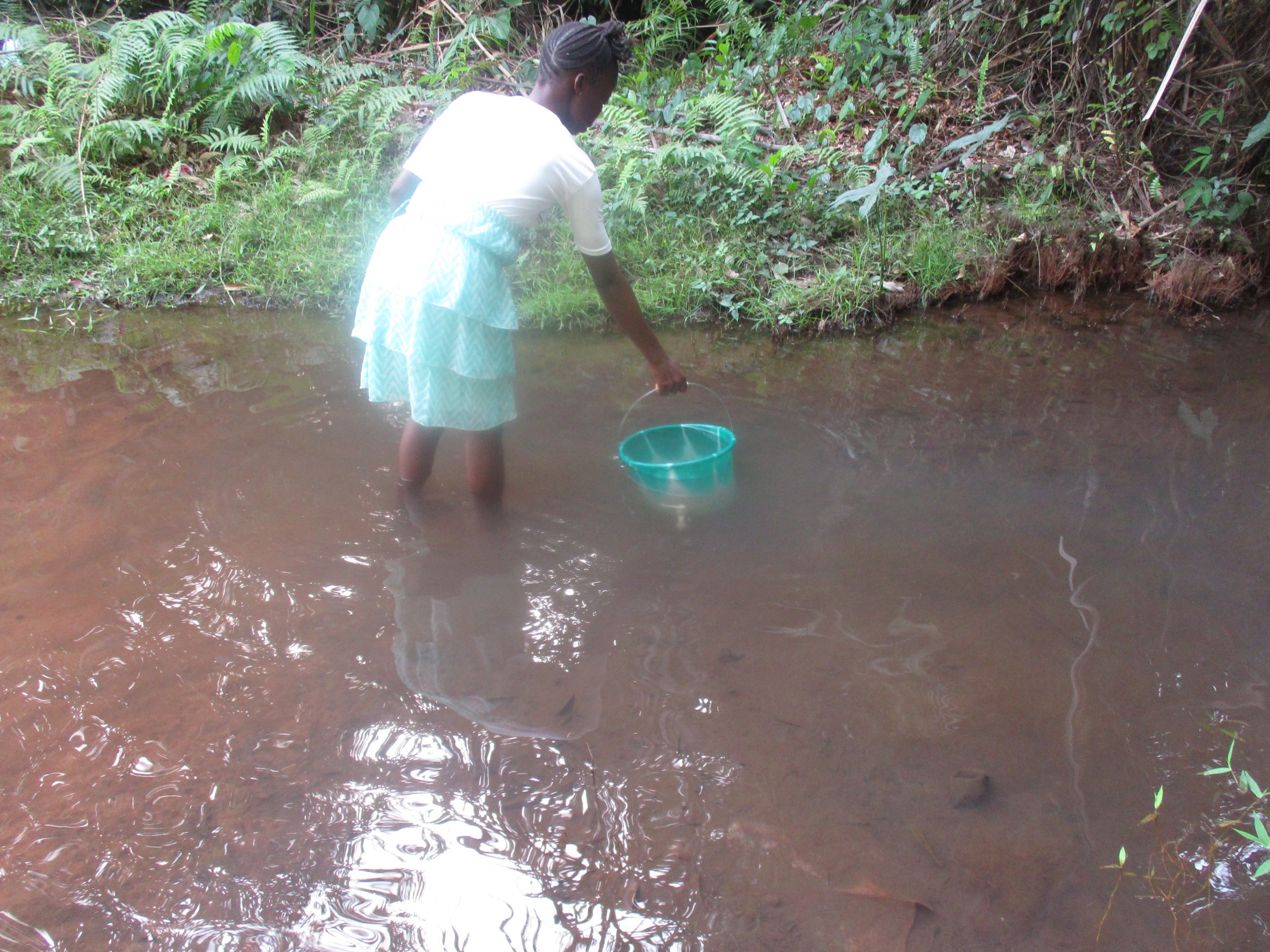 She continued, "The distance to my school is far, so I must always be in a hurry in the morning to go to school early and avoid lateness, or my teacher would punish me for going to school late."
Community members are hopeful that a new reliable water source will give them back their time and energy to concentrate on essential things like producing income and studying.
Here's what we're going to do about it:
Well Rehabilitation
The well marked for this overhaul is dry for a few months every year and needs major work to supply adequate, clean water to the community year round. The pump will be removed, and a hand auger will be lowered inside and powered by a drill team. This hand auger will allow the team to drill several meters deeper to hit a sufficient water column that will ensure the well supplies water throughout all seasons.
As the team drills, casing will be installed, transforming the bottom of this hand-dug well into a borehole. PVC piping will connect this lower system directly to the pump, a construction that we know will also improve the quality of water.
Once this plan is implemented, everyone within the community will have access to safe drinking water in both quality and quantity, even through the dry months.
Hygiene and Sanitation Training
There will be hygiene and sanitation training sessions offered for three days in a row.
After our visit, the hygiene and sanitation trainer decided it would be best to teach community members how to build a tippy tap (a hand-washing station built with a jerrycan, string, and sticks). They will use these tippy taps for handwashing demonstrations, and will also teach about other tools like dish racks and the importance of properly penning in animals.
These trainings will also strengthen the water user committee that manages and maintains this well. They enforce proper behavior and report to us whenever they need our help solving a serious problem, like a pump breakdown.