There are two water sources in Kigbal, and both of them have started to dry out.
The first source is a hand-dug well installed in 1993 that is becoming increasingly unreliable. Not only does the well lack water for the entire month of May each year, but the pump itself has not been maintained since its installation and frequently breaks. But even when the pump works and the well has water, this source is still concerning. The water has never been treated, and the area is not fenced, so wandering domestic animals often use the area as a latrine. The cement well pad has eroded, collecting standing water that likely spreads malaria, a common danger and cause of death in Sierra Leone.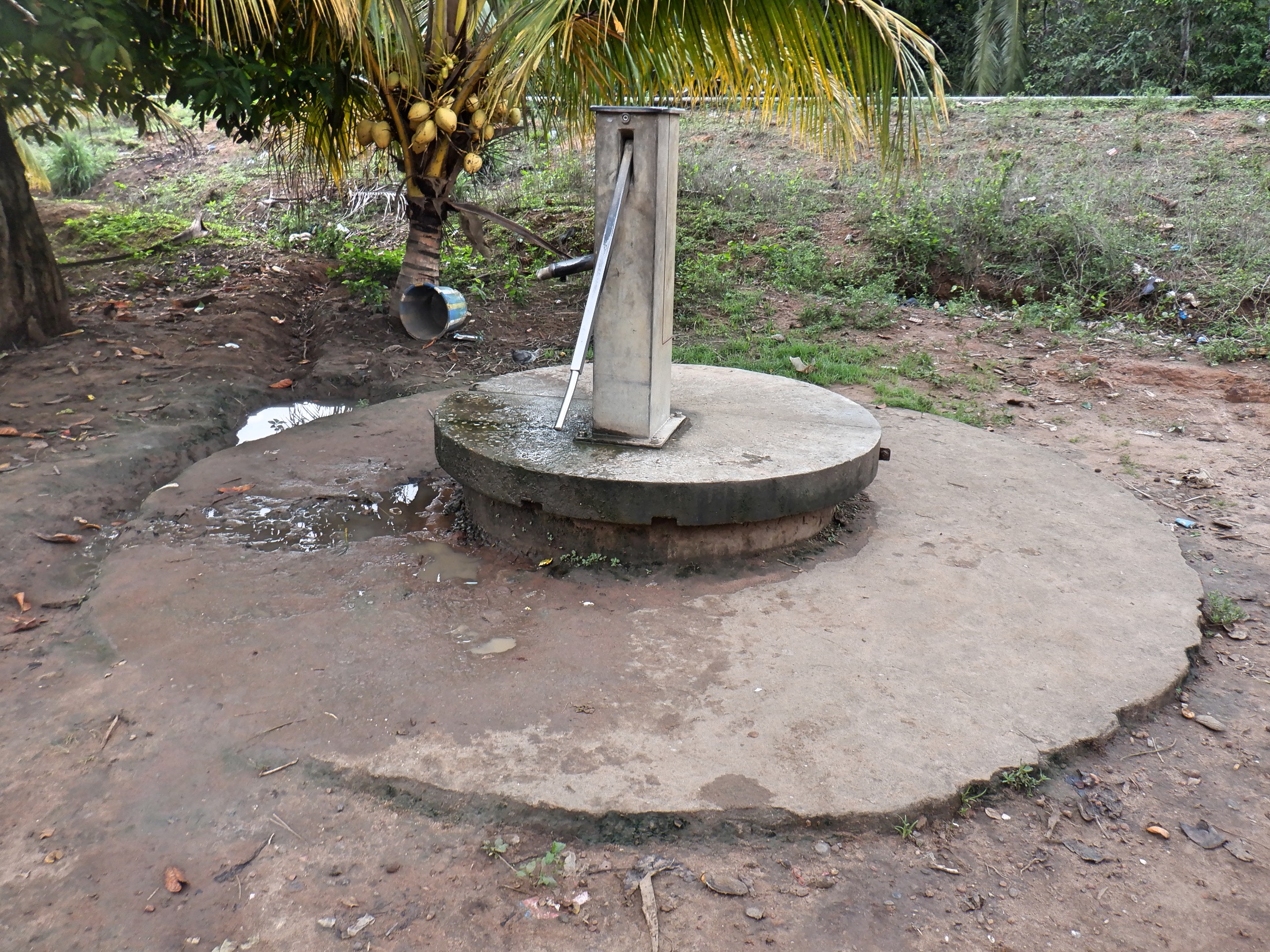 The second water source is a small pool in the local swamp, but it also can't keep up with the village's water demand. Community members periodically dig the hole in the swamp deeper in an attempt to reach more water.
"They now [rely] on the swamp water source, which is [a] distance away from the community," said our field officer, Julius.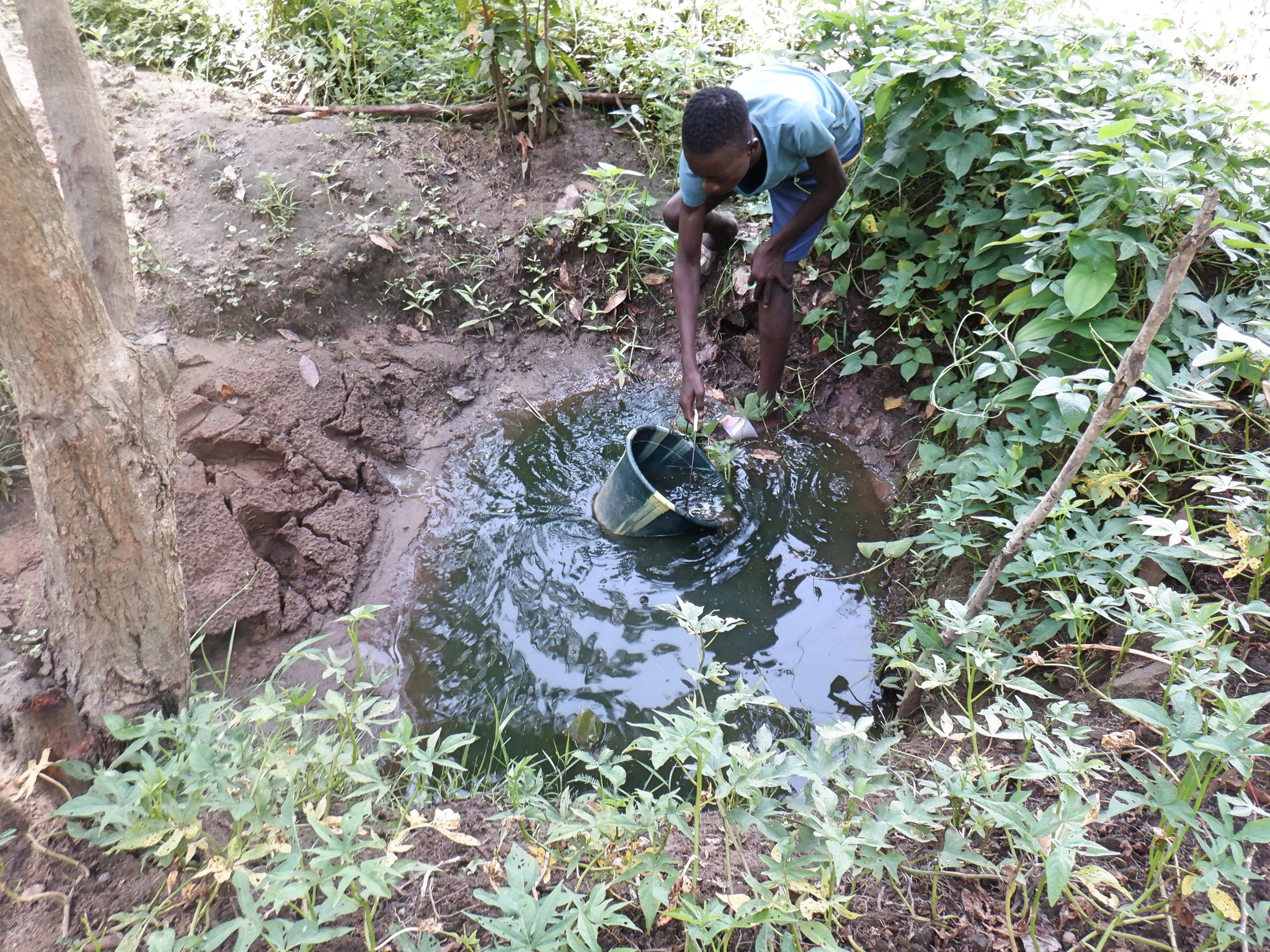 "The women find it very difficult to fetch water from the swamp, because the road is too hilly, dangerous, and narrow," Julius continued. "It is difficult to climb the hill with a bucket of water on their head. Others would easily fall down and break their containers. There are times they experience a fruitless endeavor when going to the swamp. The water at the swamp gets reduced with time. As a result, they would not be able to fetch the amount of water required. Some of the women would go home with partially filled containers. The water they had fetched will not be sufficient to use at home. Other things that need to be done at home would be undone because of insufficient water."
"The water in the swamp is not enough for everyone to fetch," explained 42-year-old trader Hawa Samura (shown below carrying water). "So, we must divide ourselves into groups so that we all can fetch water at different times. One group will go in the morning and the other in the afternoon."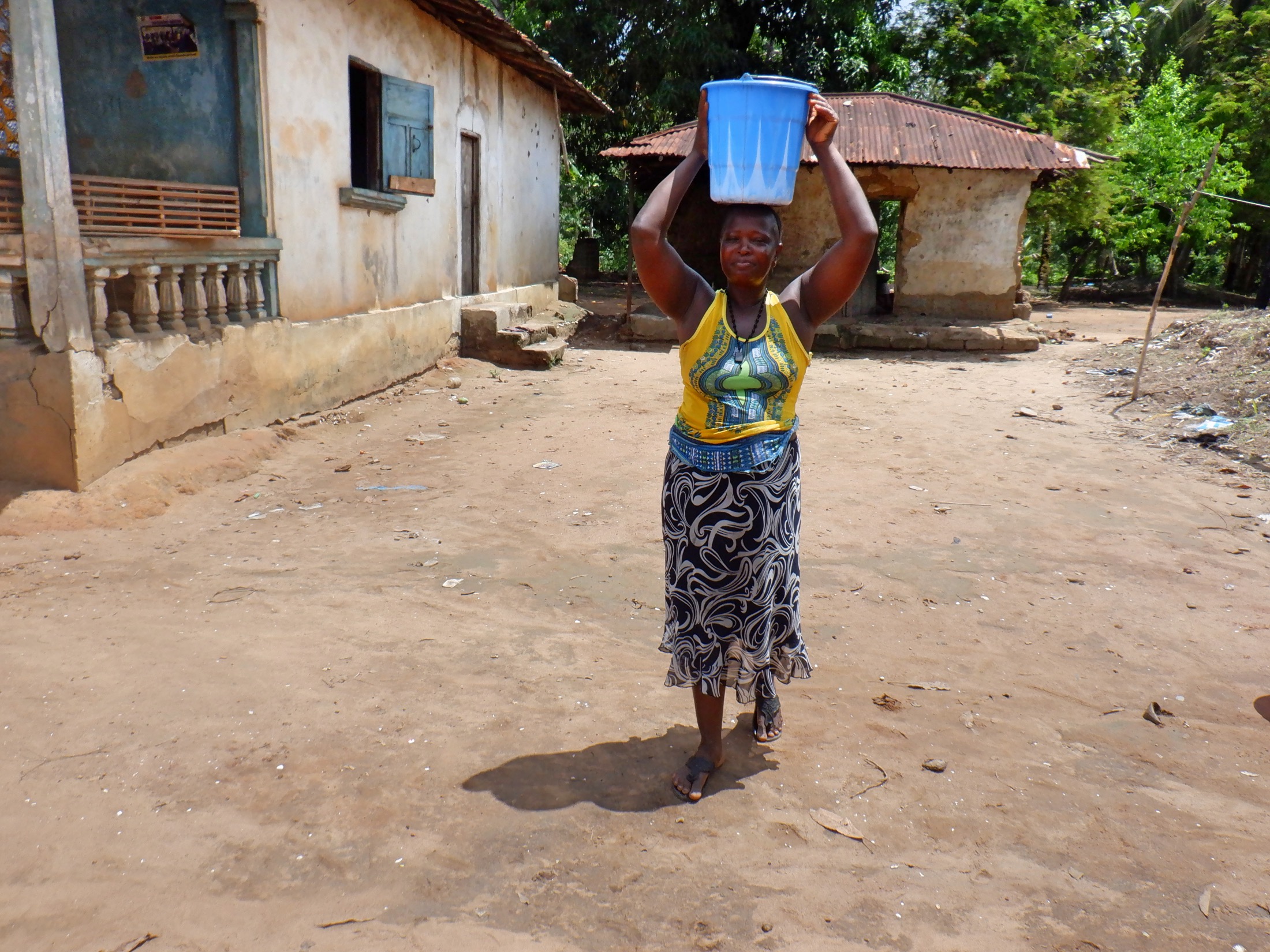 "This water [at the swamp] is open to contamination, and it is a footpath and hilly," said 12-year-old Rugiatu K. (shown below). "It is hard for me to climb the hill with a bucket of water. I could only do two trips a day because of the distance and the hill. I would find it difficult to do other work because I will be very exhausted. The congestion at the swamp in the morning hours causes me not to be punctual in school. By the time I fetch water, time would already be against me."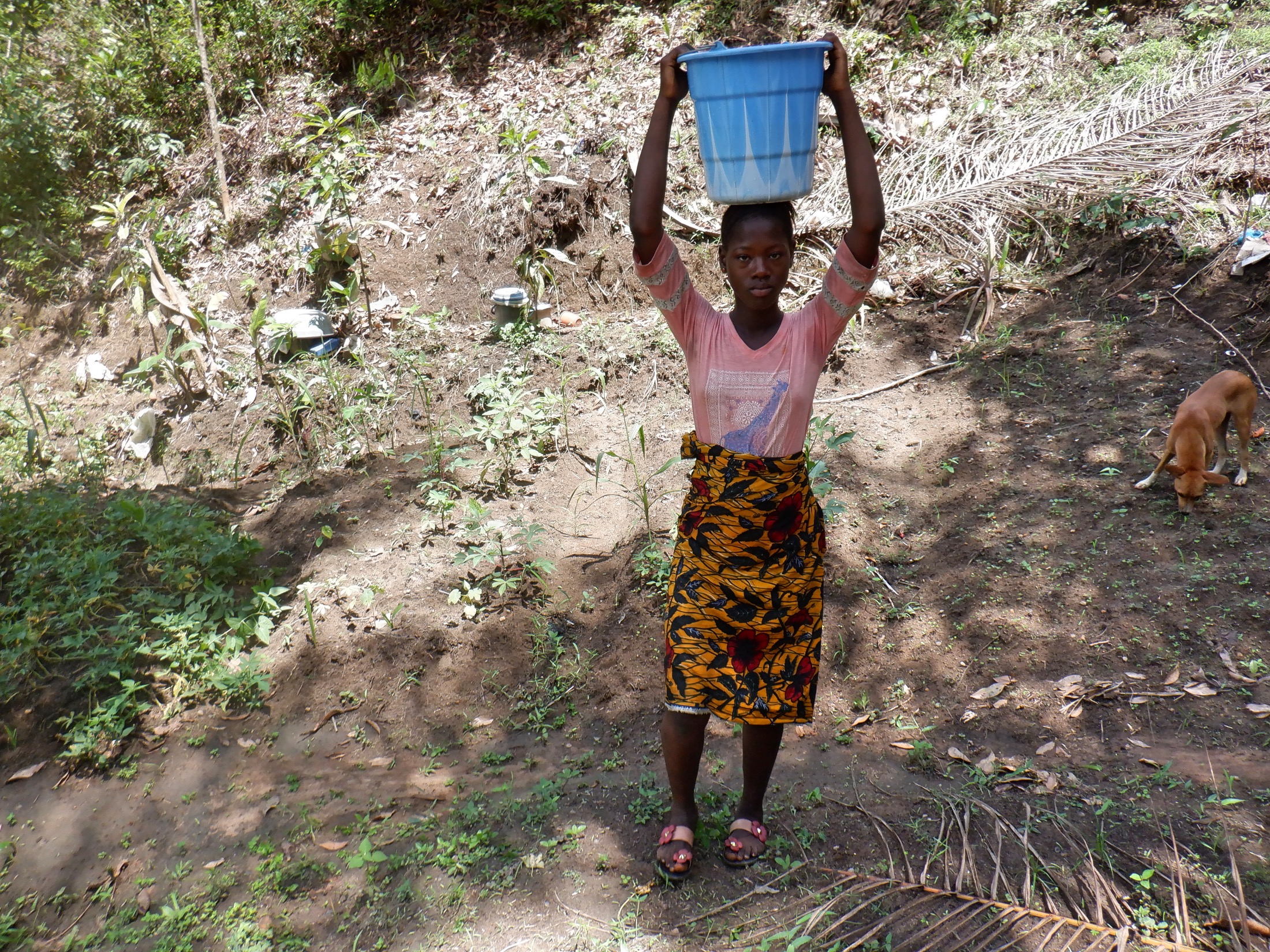 The water shortage affects everyone's schedules and livelihoods. Hawa, a trader, said that fetching water takes her so much time that she has lost long-time customers who have become impatient waiting for her to return to her shop when she is fetching water or processing palm oil to sell. This has made it difficult for her to earn money.
"Ever since the main water point became faulty, it has affected the activities of the [local] blacksmith," Julius said.
"The blacksmiths make a lot of cooking utensils, and tools for farming, such as cutlasses, hoes, and knives. They need water for this work to be done. It is often said that 'fire is a good servant but a bad master.' The blacksmith mainly operates with fire to make tools, yet water is a necessity, and is highly needed to regulate the fire, wash the tools, and prepare the materials for work. Failing to have water will lead to a fire disaster. There have been lapses in their work because of the water crisis. The time spent to fetch water from the swamp has delayed them from doing their work, and also they have even lost customers. This is because they would be busy going in search of water whilst customers would be at their workshop. Some of the customers would be impatient to wait," continued Julius.
When neither of Kigbal's sources yields water, people have to search farther afield, crossing a busy highway—a sometimes-fatal risk.
"The reason is because a lot of vehicles and motorbikes use the highway every day," said Julius. "Some of the drivers do not observe any road safety protocol. That is why they have claimed a lot of lives. This is really a huge problem for the community people."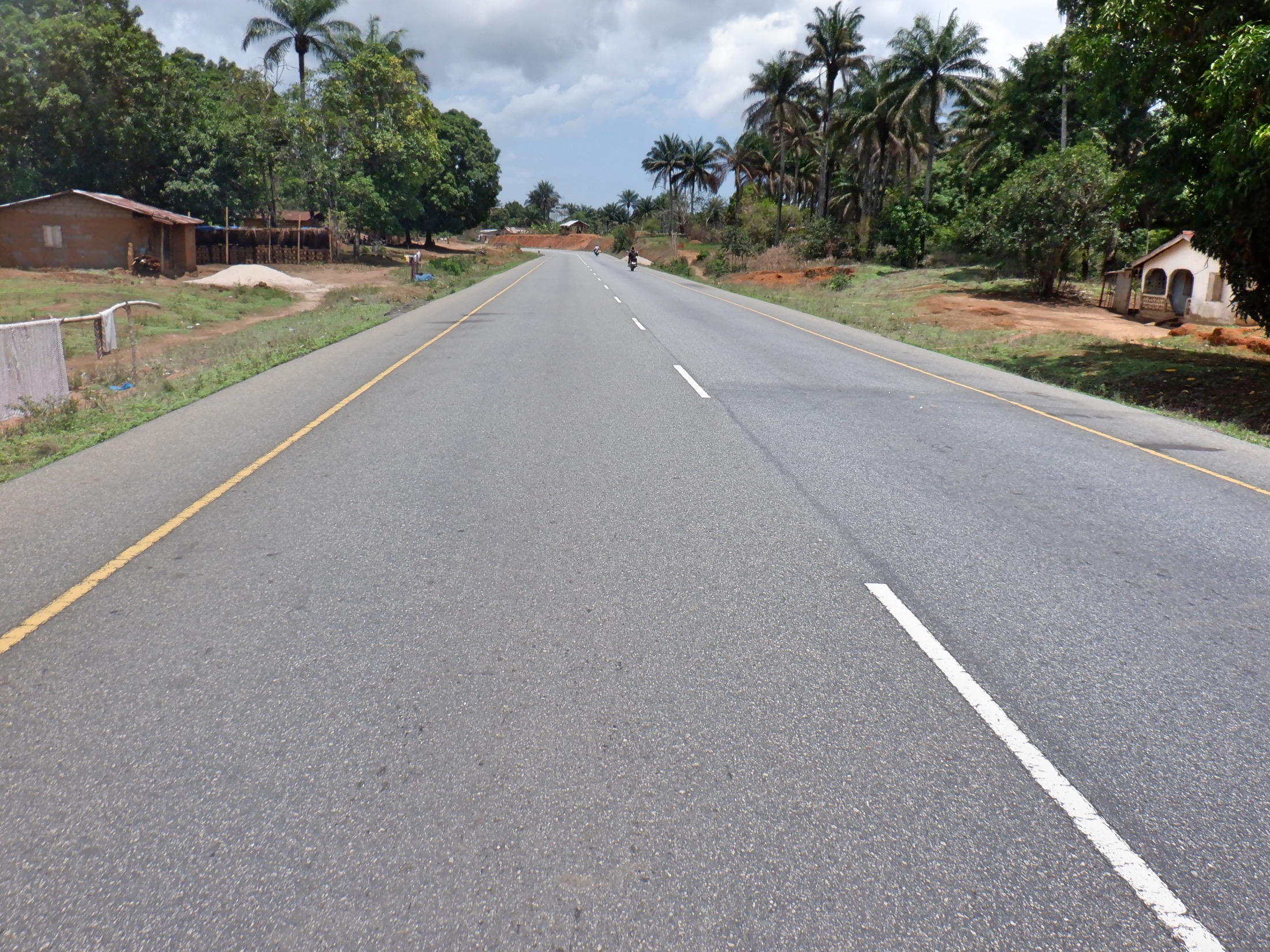 "Honestly, I am afraid to cross the road because motorbikes and vehicles run at a very high speed at the highway," said Rugiatu. "There was a time one of my friends was hit by a motorbike. Thank God she recovered, although she sustained [a] severe injury. I do not want to be a victim like my friend. For all this to be avoided, the community needs a functional well at all times. That is why I would be happy if our main water source [would] not get dry."
"I would be happy if this community would get a functional well that would not get dry," said Hawa.
Here's what we're going to do about it:
Well Rehabilitation
The well marked for this overhaul is dry for a few months every year and needs major work to supply adequate, clean water to the community year round. The pump will be removed, and a hand auger will be lowered inside and powered by a drill team. This hand auger will allow the team to drill several meters deeper to hit a sufficient water column that will ensure the well supplies water throughout all seasons.
As the team drills, casing will be installed, transforming the bottom of this hand-dug well into a borehole. PVC piping will connect this lower system directly to the pump, a construction that we know will also improve the quality of water.
Once this plan is implemented, everyone within the community will have access to safe drinking water in both quality and quantity, even through the dry months.
Hygiene and Sanitation Training
There will be hygiene and sanitation training sessions offered for three days in a row.
After our visit, the hygiene and sanitation trainer decided it would be best to teach community members how to build a tippy tap (a hand-washing station built with a jerrycan, string, and sticks). They will use these tippy taps for handwashing demonstrations, and will also teach about other tools like dish racks and the importance of properly penning in animals.
These trainings will also strengthen the water user committee that manages and maintains this well. They enforce proper behavior and report to us whenever they need our help solving a serious problem, like a pump breakdown.