A new deep well is now serving the Baji community in Southern Sudan. At nearly 200 feet deep, it will serve over 46 households totaling 380 people in the community.
The community in Baji used to fetch water from a nearby stream.  As Peresi, a resident of Baji, describes in her own words below, they had no idea that the water they had been drinking their whole lives was responsible for making her and her children so sick.  Now, her entire community has been taught proper sanitation and hygiene, and have a new source of safe water.  Lives will change.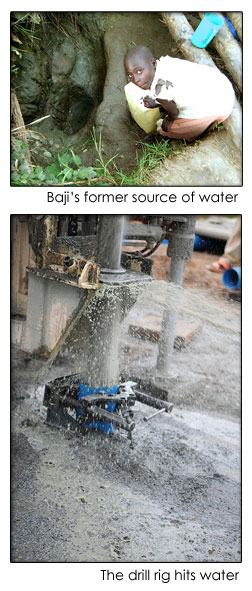 The Water Project funds projects like Baji because remote communities like theirs are so often ignored.  We and our implementing partner are committed to helping the forgotten.  There are a billion people without water, and we intend to help – one village at a time.
We're working to ensure long-term solutions are put in place.  So, from the beginning, we work to be sure communities like Baji are deeply committed to making their project a success.  In Baji, they provided local materials, setup a water committee and worked together with WHI on the planning and management of this borehole.
The work in Baji isn't finished.  A water project means more than just digging a well.  It's a commitment.  Our partners will follow-up in Baji.  They'll check on the well, and see if all that was taught is being put into practice.  This long term monitoring is crucial.  We intend to carry it out for every project we can.  It's the only way to learn what works and what doesn't.  It also puts into practice what we believe.  Building stuff is not what's important.  People are.  And whether you're in Southern Sudan or next door, truly caring for your neighbor takes time and a willingness to stay.  Having local partners makes that possible.
They we're thirsty, and you gave them something to drink.
The community of Baji is hopeful.  And that matters.
Community Testimonies:
Photos and Story by:
Godfrey
Lilea
(direct from our implementing partner)

Name: Peresi Guwo
Peresi was a woman leader in this village. She worked with the Episcopal Church of Sudan (ECS) in Kajo Keji diocese as a
lay-reader (a title in the church for church leaders.)
Peresi was born in 1952 in Uganda, in the town of Lira. At the time, her father was working in sisal factory. However, it did not take long after her father died, for her mother took Peresi and the rest of the family back to Sudan. Peresi did not go to school. She grew up at home, helping her mother until she became married to her husband Aman, and moved only 1km away from her mother.
Both Peresi and her husband were already drinking from the same source of water, and Peresi showed no signs of changing sources. When I asked her about any health problems associated with the water source, she said, "we were brought up drinking from this water.
However, we used to suffer from skin rashes, stomachaches, etc. I don't know of these from the water." This was true with the people from this village who don't know anything about water-born diseases.
But not until 2005 did Peresi come back from exile in Uganda. She was able to realize that the water they had been drinking
was contaminated and they were suffering from water born diseases. Peresi told me, "Typhoid was the worst fever that disturbed me for the last two years. Even my youngest children were suffering from Typhoid."
While talking to Peresi, the husband came around and added, "this water is going to relieve me from water born diseases."
Peresi responded excitedly, "not only that, but it's just 200m from home! It is going to save time for other activities also."
The couple joined together to thank the donor for this borehole. They said, "Paul preached the Gospel of Christ to many
churches, however this man/donor has brought water to many Christians
who are suffering like us. God bless you and the crew."
Name: John Wori Mogga
It has been five years now since the signing of the Comprehensive Peace Agreement (CPA) in Sudan. Many people all over Southern Sudan were struggling to re-settle themselves after being in exile for over 20 years.
One of those people was Mogga John, whom I met at Baji when we were drilling a borehole for them. Mogga was born in 1949 in kajo Keji. During those years in Sudan children of chiefs and the rich were the ones to go to school. The father of Mogga was by then working with the forest department. This gave Mogga a chance to go to school. However, it was not until he completed Primary 2 when the father took him to care for some cattle. This marked the end of Mogga's education.
In 1955, when one of the longest civil wars in Sudan broke out, the family of Mogga was forced to go to Uganda. He stayed in Kampala, working as a houseboy to make money. He told me, "I didn't like the work, so I decided to join the Uganda Army in 1970 until 1979 when Mr. Idi Amin Dada, the president of Uganda, was forced out of power." During those yaers, many Sudanese who took refuge in uganda were killed. However, some fled back to Sudan. "I came back to Sudan in 1979, stayed in this village for four years, then I joined the Sudan Peoples' Liberation Army (SPLA) in 1983," Mogga recalls.
Mogga, who is now 62 years old, looked very fit and despite his age, maintains his strength. He seemed to even have a group of men follow him wherever he would go; his fellow cohorts. It is easy to see how much respect Mogga commands within the village.
Mogga went on to say, "we used to drink from that stream," pointing to the valley nearby. "Cattle, humans and all rubbish from this village were dumped here, but none of our people were sick. " Nobody boiled water for there is no idea of what that can prevent. "However," he added, "when we came back to this village five years ago, my family and most of my neighbors were affected with a number of water born diseases."
Most of the people in this village thought these diseases were a result of the weapons used during the war. They didn't believe that there were water born diseases in their water source. Mogga went on to say that the health department gave them Water Guard to put into their drinking water, but this chemical smelled badly, so he threw it into the rubbish pit.
"Today I have seen a borehole in this village," Mogga said. "I wish this water could come when I was still young, however, I am happy that I am still alive to enjoy it. May God bless the person who donated this borehole for us." As he was going back, he added, "this is a true faith, for I have seen men of faith in this village today. God bless WHI and your work."