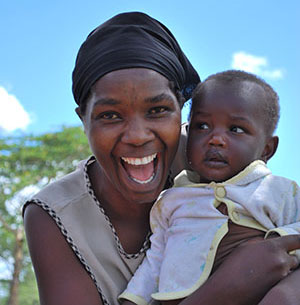 Kenya is a beautiful mix of cities and countryside, mountains and desert, remarkable potential amidst deseprate poverty. It is home to a people of inspiring hospitality, kindness and joy.
But for so many in Kenya, clean and safe water is impossible to find. Mothers search for it in vain and children gather dirty water when nothing else is available. As they do, hope is lost when inevitable sickness and poverty follow.
We're committed to working closely with the people of Kenya, listening to their needs and not simply imposing our solutions. Our desire is to see more smiles like this mom (pictured right), who benefits from one of our very first water projects.
Sponsoring a water project in Kenya is easy. Every donor is connected to a specific project. No matter the size of the gift, you'll receive a project report with pictures, GPS coordinates, and brief reports describing how you've helped a particular village.
We want you to see the good that has been done.