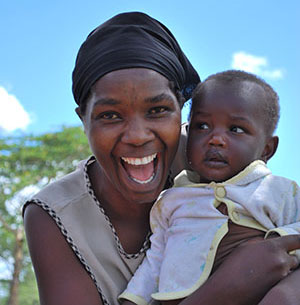 Kenya is a beautiful mix of cities and countryside, mountains and desert, remarkable potential amidst deseprate poverty. It is home to a people of inspiring hospitality, kindness and joy.
But for so many in Kenya, clean and safe water is impossible to find. Mothers search for it in vain and children gather dirty water when nothing else is available. As they do, hope is lost when inevitable sickness and poverty follow.
We're committed to working closely with the people of Kenya, listening to their needs and not simply imposing our solutions. Our desire is to see more smiles like this mom's, who received one of our very first water projects.
Sponsoring a water project in Kenya is easy. Every donor is connected to a specific project. No matter the size of the gift, you'll receive a project report with pictures, GPS coordinates, and brief reports describing how you've helped a particular village.
We want you to see the good that has been done.
Bridge Water Project
Working through Bridge Water Project, we refocused efforts in Western Kenya on well rehabilitation and construction. Local communities apply with BWP to either have a water project overhauled or installed for the first time. BWP works with these communities to ensure they are ready and able to manage their water source and that they are properly trained in hygiene and sanitation. We've spent over six years strengthening this team and it is so encouraging to watch them hitting their stride in providing reliable and sustainable water projects.
Africa Sand Dam Foundation
We expanded our relationship with the Africa Sand Dam Foundation, building our 2011 pilot program into a robust construction effort that includes 10 sand dams and 8 shallow wells. These comprehensive projects included the design and construction of small subsurface dams, as well as efforts in agriculture, land terracing, tree planting and watershed management.