The people of Sierra Leone are suffering from a lack of access to clean and safe water. The problem...hundreds of hand pumps are broken.
Even the "wells" that are in use are often no more than an open pit with "water" in the bottom. When we heard that the solution to these problems was simple and cost effective, we had to respond.
Together with our partners, we're helping restore the promise of clean water in Sierra Leone. Join us and see for yourself.
Today, we're restoring and repairing wells and when we can work at a school, we add latrines to the project and provide a total water and sanitation solution. It makes an incredible impact.
In most cases the well "repairs" end up being a complete overhaul or reconstruction of the well. Then, to protect the water source the existing well (hole in the ground) must be cased and capped. The communities then need a new pump.
Keeping with our goal of utilizing local management and labor whenever possible, our implementer's operation works to train former child-soldiers and women who were victimized during the hostilities of the recent civil war. They are being equipped to rehabilitate broken-down wells and educate villagers in basic health and hygiene practices. Hope is restored for everyone involved.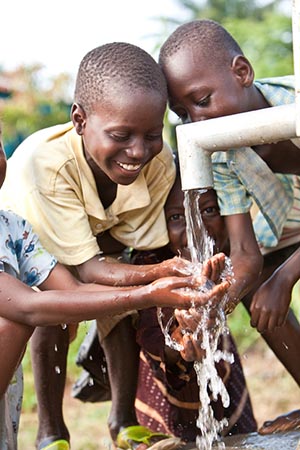 Work is taking place primarily in Koya District, Port Loko District, Western Area Rural, Bombali District and Tonkolili District. Teams move to where there is the most need. As word has gotten out, the teams receive requests for assistance. They do a survey trip and identify all the nearby wells that need work.
In every case, the technical work is combined with community training and follow-up to ensure the work is sustainable. Community members are taught about proper hygiene and well maintenance. At schools, the teams are even installing toilets to provide a complete sanitation solution. When you put it all together, an effective and lasting solution is put in place. Lives change.
Sustainability is about relationships in Sierra Leone. So these initial contacts are always followed up. Going back and calling them on the phone to see how the pump is working is one way to stay in touch.