Wells for Uganda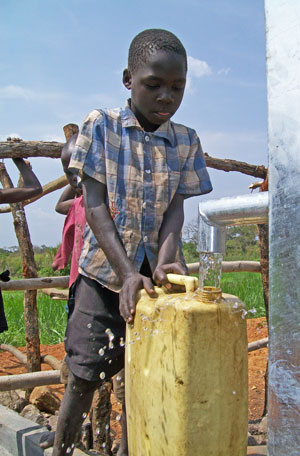 In late 2010, we launched a new funding effort to help build wells in Uganda, working through The Water Trust America.
We're particularly excited about this parntership. The Water Trust is a respected development organization with an excellent track record. Their local teams are doing great work and we plan to learn a lot from them.
As in the other countries we work, the need of clean, safe water is widespread in Uganda. The good news is that in many places, there is ample groundwater that allows for hand-dug wells to be installed. Teams dig, sometimes quite literally by hand, to a depth of 50-100 feet, reinforcing the walls of the well along the way. Once a good amount of water is found, the well is capped and a hand pump is attached.
Once water is found, the team trains the local community on how to properly use their new well. They also spend time teaching the local community about proper sanitation and hygiene.
Join us. Get involved today and help change everything for a community in Uganda.
A Unique Approach
How do you teach students and skeptical adults about the importance of washing hands, using a latrine, and keeping a clean kitchen? You could try to sit them all down and hold a lecture. That works sometimes. But what if you could hold everyone's attention and create a truly memorable event?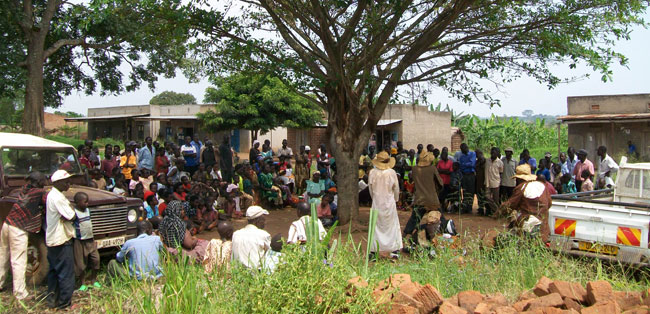 That's what The Water Trust is doing with their travelling troupe of water and sanitation teachers. Through drama, comedy and song they "teach" through all the important points. Their audiences roar with laughter while learning important lessons. Remember the last time your son or daughter, brother or sister came home from a show or movie and recounted every single point, line for line? That's the point of this work. We're convinced these critcal lessons about good health will spread in the same way. We think it's one of the best examples of engaging with and teaching a community we've ever seen.
About The Water Trust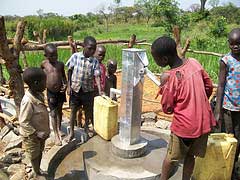 The work in Uganda is managed by The Water Trust. The Water Trust partners with local non-governmental organizations to carry out development projects in the developing world. Three operating principals guide our approach: certainty of results, extreme transparency and low overhead.
Certainty of Results: In Masindi, we are working alongside a dedicated team of social and technical TWT team members, local NGOs - including our partner Busoga Trust, who has honed their approach over 20 years of WASH experience in the region - and the local government. This experience, together with the favorable geology of the region and stable political climate in Uganda, gives us confidence that our work has and will continue to have a profound impact on people's lives in Masindi.
Transparency: Every donation, large or small, is linked to a specific project. Donors are notified which project their gift supports. Each project has a page on this website that gives details about the village served by the new well, data on water quality and access before and after the intervention and photo and video documentation of the work and the new well. The idea is to provide to donors a window into exactly who their donation helped and what it accomplished.
About Masindi
Though Masindi is a region with abundant rainfall, our partner's survey work reveals a region with too few reliable sources of clean safe water. Our partner estimates that to achieve water coverage targets of 70%, 200 new and rehabilitated water sources are needed in Masindi.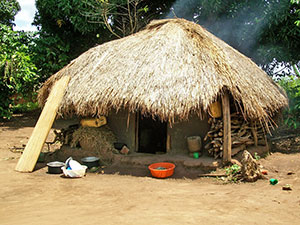 Masindi is a District bordered by Apac in the East, Gulu in the North, Luwero and Hoima in the South, and Lake Albert in the West. The population estimate is about 480,000. Temperatures average over 25 degrees(c) and rainfall averages about 52 inches per year. While overall rainfall is ample in Masindi, severe shortages occur during the dry seasons from December to February and in June and July. During these times the groundwater becomes dirty and scarce.
For much of the last decade the Masindi region was home to a considerable refugee population due to unrest in the north of Uganda. Over the last decade aid has been focused on refugees more than on sustainable water and other development. The refugee population is now declining in Masindi due to the recent truce between the LRA and the Ugandan government, allowing many to return to their homes in the north.
The Current Situation
The local implementer, Busoga Trust, completed an initial baseline survey of the overall Masindi region in September of 2007. In 2008 they completed a more detailed survey of the Pakanyi district. The results of our baseline surveys show the urgent need for rural water development in Masindi. The Pakanyi survey revealed just 31% protected water source coverage, 10% improved latrine coverage and 6% hand washing facility coverage.
In the 14 villages surveyed in the Pakanyi district, there were a total of 32 protected sources but just 21 were working. The survey showed that of the functional sources, a high percentage were providing very little water (low yield). They would often dry up in the dry season. This was especially a problem with the protected springs.
In unprotected sources that were found, there was a high degree of bacterial and physical contamination. The causes of this contamination may include any or all of the following; dipping of dirty jerry cans in the water, stepping in source while collecting water, rotting debris, use of the water source by animals, and dirty run-off water caused by rains that may include human feces. This survey highlighted the pressing need for the provision of water and the development of hygiene and sanitation in Pakanyi Sub-county.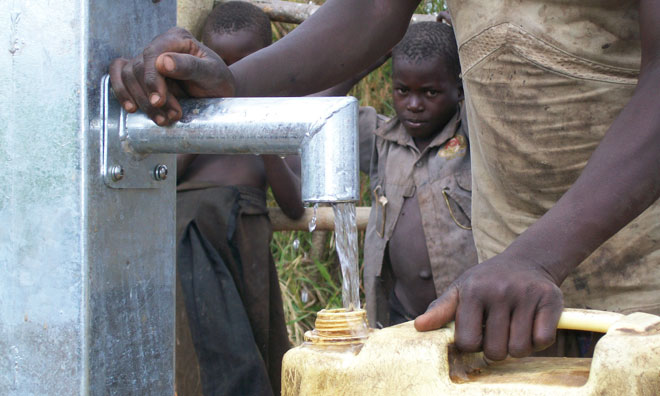 Join us. Get involved today and help change everything for a community in Uganda.